---
Is The Soybean Rally About To End? 
Soybean futures sold for around $11.84 per bushel on the Chicago Board of Trade on Wednesday, rejecting a breakout above $12 per bushel for the fourth consecutive session.
By comparison, CBoT soybean futures were trading around $9.40 per bushel when the U.S.-China Phase 1 trade deal was signed in mid-January. Now prices are 30% higher, hovering at four-year highs, around the $12 handle. 
The meteoric rise was triggered by China's strong demand this past summer when prices were trading at multi-year lows.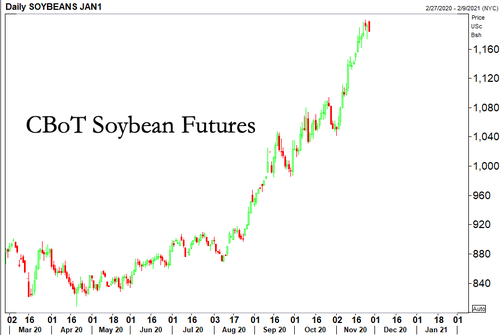 November's steep rise in price is starting to erode enthusiasm among Chinese buyers.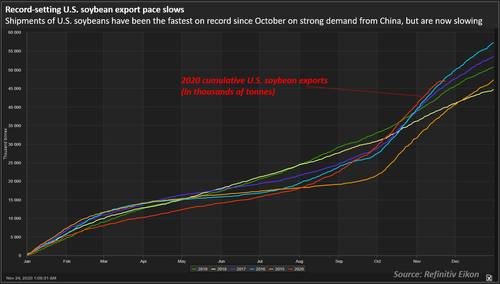 Three trade sources told Reuters that Chinese soybean importers and processors are preparing to cancel deals signed with US firms for December and January shipments. 
The sources explained that crushing margins have collapsed following a rapid price rise in Chicago futures.
"Small private soybean importers are trying to wash out December and January U.S. soybean shipments as crush margins have turned negative," said one trade at a top soybean processor in China. 

"This is for those importers who bought cargoes but did not (set the) price in the futures market." -Reuters 
US soybean exports have strongly correlated with the gains seen in futures markets. As explained by Reuters, this has led to "export basis levels, or the premium above futures that buyers must pay to secure supplies, have dropped by just over 30%, indicating reduced competition among buyers."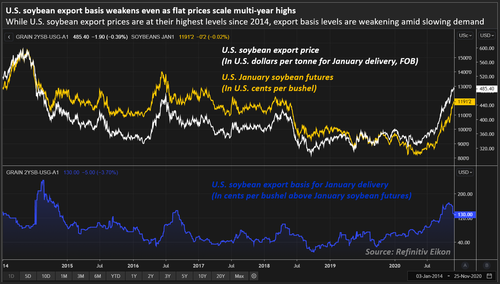 Reuters also notes spot export basis at the US Gulf plunged 93 cents a bushel in early November to 63 cents this week. "This is a big drop," said one of the sources. 
Other sources have said China and US firms are washing out prior deals through the end of the year. 
"It makes sense for small private importers to wash out (of U.S. cargoes) as they did not price in futures market earlier," said one of them, a manager at a major crusher based in southern China.

"Bringing in U.S. beans to China, at this price, means you lose money."

Sources did not give the numbers of deals cancelled or likely to be washed out.
This may suggest the recent rally in soybean prices could lose momentum to the upside and risk a reversal.