---
Spot Gold Tops $1,800 For First Time Since 2011, Silver Breaches $19
Precious metals are extending yesterday's gains with spot gold topping $1,800 for the first time since Nov 2011.
Futures are soaring this morning...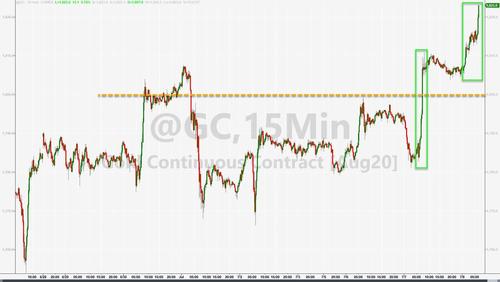 This is the highest for spot gold since Sept 2011...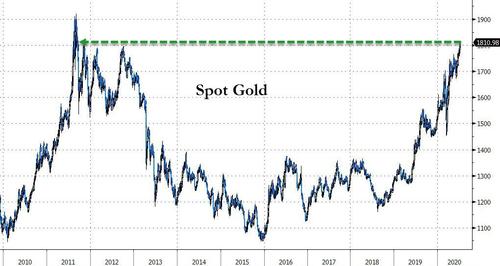 Silver is also soaring, with futures topping $19...
Is the soaring rhetoric between US and China renewing doubts about the USDollar's future?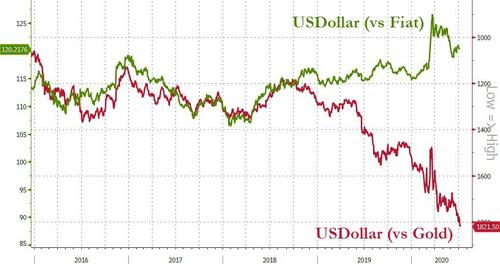 As Peter Schiff recently noted, any realistic assessment of the economy should reveal at best it will recover from a depression to a recession. And it seems clear that the biggest driver is the Federal Reserve. So, you should ask yourself this question: do you expect the Fed to roll back its extraordinary monetary policy any time soon?
The answer seems pretty clear — no. In fact, the Fed shows no signs of backing off its monetary Hail Mary. The minutes from the most recent FOMC meeting show the central bank remains committed "to do whatever we can, for as long as it takes."
As Peter noted in a recent podcast, the next shoe to drop is the dollar. And virtually nobody is ready for a currency crisis.
They don't understand the damage that the Fed has done to the economy. They don't understand how the Fed inflated the prior bubbles, or how this one is even worse. And they don't get how everything the Fed is doing now is making the problems they don't even understand much worse and setting up an outcome that they haven't even contemplated. I mean, nobody is prepared for stagflation – for a situation where the economy is weak, unemployment rises, yet we have more inflation, and we have a weak dollar; we have rising gold prices – the exact environment we're going to have. Nobody on Wall Street is prepared for it."
When you look at the big picture and the trajectory of central bank policy, there is no reason to expect the bull run in gold to slow down anytime soon.