---
"Sudden Stratospheric Warming" May Trigger Wild Winter Weather For Northeast 
Readers, some troubling developments in the Arctic may impact weather conditions in the US and Europe. In about a week, from late December to early January, temperatures miles above the Arctic have soared. This means that the polar vortex could be splitting in two and may produce wild winter weather in the weeks ahead, according to CBS.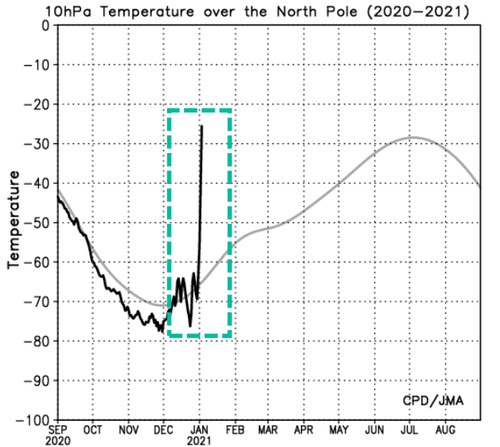 The massive spike in temperatures is happening miles above the North Pole. The sudden stratospheric warming (SSW) event, experts say, could produce significant winter events across the Northern Hemisphere. 
This could mean parts of the US and Europe may soon experience paralyzing snowstorms and frigid temperatures. 
SWW involves warming temperatures 50,000 to 100,000 feet above the Arctic that disrupts the Arctic stratosphere, known as the polar vortex. 
Last winter, there was limited disruption as the cold air was limited to the Arctic, which resulted in less snow for Mid-Atlantic and Northeast states. But happening now, the SWW is weakening the polar vortex as it wobbles and can split off into two, pushing colder air into the US, Europe, and Asia. 
CBS News Meteorologist Jeff Berardelli tweeted an image to illustrate what is happening in the Stratosphere right now. He said, "polar Vortex, which typically would be near the North Pole and very cold (purple) is displaced south and split as the Sudden Stratospheric warming occurs."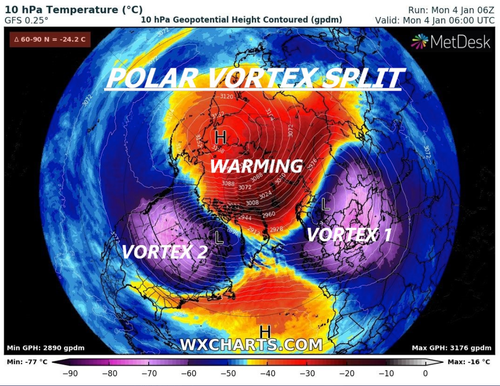 Weather models suggest the first round of colder temperatures will occur over Europe and eastern Asia through mid-January. Then the US by late month. 
"Along with a gradual building of cold air over the coming weeks in the East, the jet stream setup will provide many opportunities for snowstorms. While many will not materialize, with a prolonged pattern favorable for extreme winter weather, the odds are that pieces of the puzzle will come together for a couple of memorable winter storms," CBS News said.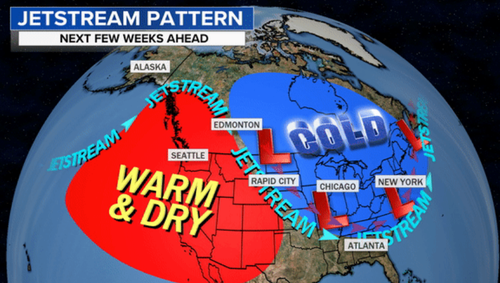 Dr. Judah Cohen, an expert of SSW events at Atmospheric and Environmental Research, expects extreme winter weather from the SSW could last for at least a month. 
"Following an SSW, the period of increased risk of cold air outbreaks and snowstorms usually lasts from four to eight weeks. It is not cold and snowing continuously, but rather it is episodic," Cohen explained.
BAMWX's Kirk Hinz outlined earlier this week that "we are starting to see a change in the forecast atmospheric pattern drivers ahead that *could* lead to a more favorable pattern for wintry risks beyond Jan ~15th." 
Breaking down the risk for more wintery weather, Hinz showed Jan. 13 to Jan. 20 is a timeframe when increased probabilities of snowstorms from Ohio Valley, Mid Atlantic, and Northeast areas could materialize.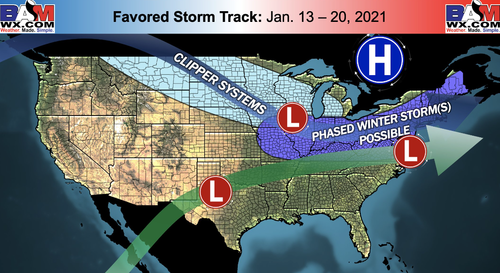 Commodity desks tend to look at weather models a couple of weeks out. If an SSW event is underway and colder temperatures are ahead - this could be beneficial for natgas prices.