---
Texas Braces For Cold Snap As NatGas Pipelines Freeze; Power Blackout Concerns Mount
Arctic air has descended into Texas this week as temperatures dive well below freezing. Texas officials have reassured the public numerous times the primary grid operator for Texas, the Electric Reliability Council of Texas (ERCOT), will have the capacity to supply energy to households and businesses as heating demand increases.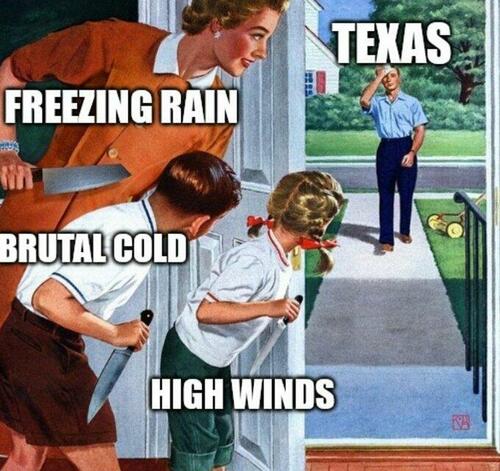 "The grid is ready, and the lights will stay on for Texans," Peter Lake, chairman of the Public Utility Commission of Texas, said in a statement Wednesday afternoon. He said earlier in the day that ERCOT "doesn't anticipate any rolling blackouts at all."
Weather forecasts show a deep freeze in the Lone Star State through Saturday. Average temperatures have dove from 60 degrees Ferinhight on Jan. 31 to as low as 25 degrees Ferinhight on Friday. An ice storm is also hitting the state and will continue through the end of the week.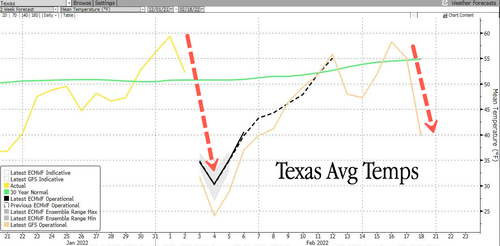 Brrr it's cold out!
Cold air is plunging southward across Texas. It was 72 F at 4 a.m. CST in Brownsville, TX, and the temp there at 7 a.m. CST was 47 F: https://t.co/CTJHkm6Y8M

Follow live updates on the winter storm: https://t.co/FcS0AuGv8b pic.twitter.com/hEgfCVRRIx

— Breaking Weather by AccuWeather (@breakingweather) February 3, 2022
ERCOT anticipates peak demand will be around 72 gigawatts on Friday morning, a level only seen during very hot periods of the summer. The deep freeze is already producing very concerning signs of impending danger. 
Gas supplies in Oklahoma, the Texas Panhandle, and Arkansas plunged 22% Wednesday from Tuesday as frozen wellheads limited the flow of natgas, according to new data from BloombergNEF.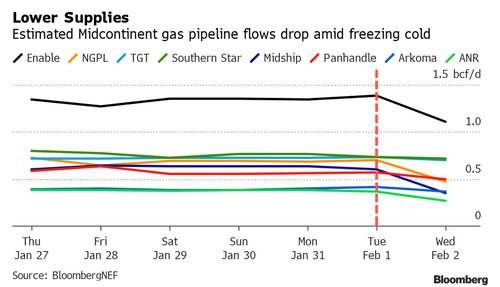 Colder weather and the threat of dwindling supplies are partially responsible for natural gas prices jumping as high as 17% on Wednesday but receding 7% on Thursday morning. Prices topped as high as $5.50/MMBtu yesterday, back to levels not seen in nearly a decade.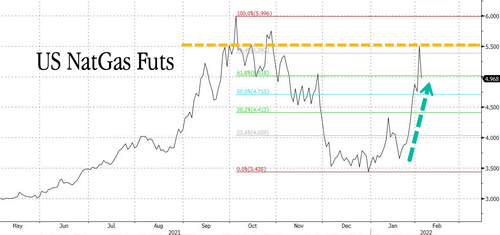 "This is just the beginning," said BNEF analyst Jade Patterson. Frozen pipelines could restrict Midcontinent gas supplies through the weekend. As readers may recall, frozen natgas pipelines were one of the primary causes of the energy crisis in Texas last year. If natgas power generation plants can't get fuel, there will be serious issues and risks of blackouts in the Texas. 
"This weather system has really strengthened, particularly in the Midwest and in the producing region," said John Kilduff, co-founder of Again Capital LLC. "There is certain to be freeze offs, there is certain to be operational hiccups in terms of transmission and transport via pipelines of gas molecules."
"The combination of increased heating demand and reduced production due to freeze offs will tighten the market through the next two weeks," said Peter Rosenthal, head of power and North American gas at Energy Aspects.
Due to the risk of grid complications, crypto-miner Riot Blockchain Inc. shut down most of its Bitcoin-making operation in Texas this week to conserve electricity. Riot voluntarily began reducing power on Tuesday ahead of the cold snap. 
"Whinstone began taking proactive measures to prepare for shutting down its mining operations in response to any demand surges in Ercot," said company spokesperson Trystine Payfer.
The deep freeze is part of a powerful winter storm traversing the central, eastern, and southern U.S.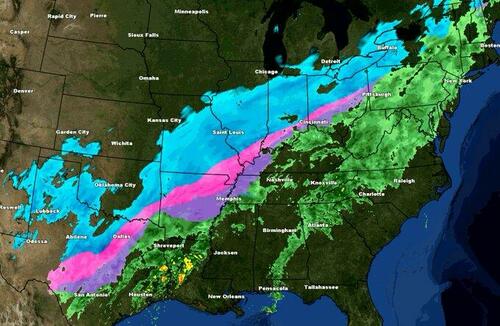 The question readers have is if ERCOT can meet demand while preventing pipelines from freezing. If not, a redux of the 2021 energy crisis could be imminent.