---
Thai Rice Prices Jump As Global Food Crisis Reignites
Soaring rice prices is the latest example of persistent food inflation. The grain is responsible for feeding billions of people, and prices were relatively stable last year while wheat soared until now.
Since November, Thailand's white rice prices jumped to two-year highs, up 23% to $523 per ton. 
"Strong demand lies at the heart of the rally, with some importers buying more of the grain to replace wheat after the war in Ukraine disrupted supplies. Some consumers have also been stocking up ahead of festivals, while a strengthening Thai currency has helped push up dollar-denominated prices," Bloomberg explained. 
Thailand, the world's second-largest rice exporter, has seen increasing demand from Indonesia and Iraq, said Chookiat Ophaswongse, honorary president of the Thai Rice Exporters Association. 
"Iraq has been diligently buying our rice every month," said Ophaswongse, adding the Middle Eastern country was the largest buyer last year. 
However, as Thai rice gets more expensive, buyers in China and Malaysia are swapping for inexpensive alternatives. 
Expensive rice will pressure many of the world's households that rely on the grain. The problem with rice is that it's a staple, and rising prices could fuel discontent or, worse, food riots. 
What's more alarming is that the Food and Agriculture Organization's food price index, which tracks international prices of the top traded food commodities worldwide, remains at levels associated with triggering the Arab Spring, a series of anti-government protests across the Middle East in the early 2010s.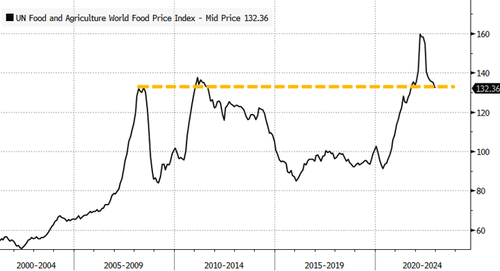 The good news is that upside momentum in food commodity prices has dramatically slowed, if not reversed, in some cases, though the rise in rice prices is a concern because billions of people rely on the grain for survival.
... and China is shifting into a net food importer that might put upward pressure on food prices this year. 
Loading...