---
These Are The World's Largest Lithium Producers
Lithium has become essential in recent years, primarily due to the boom in electric vehicles and other clean technologies that rely on lithium batteries.
The global lithium-ion battery market was valued at $52 billion in 2022 and is expected to reach $194 billion in 2030.
In the infographic below, using data from the United States Geological Survey Visual Capitalist's Bruno Venditti explores the world's largest lithium producing countries.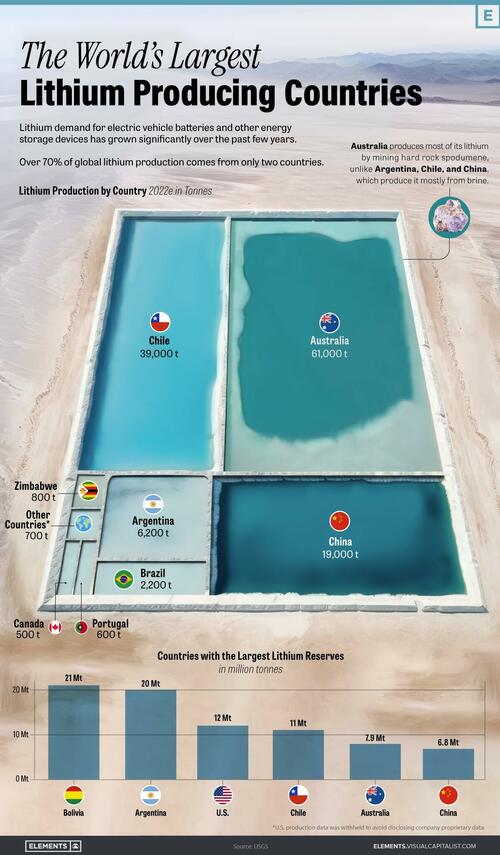 Australia and Chile: Dominating Global Lithium Supply
Australia and Chile stand out as the top producers of lithium, accounting for almost 77% of the global production in 2022.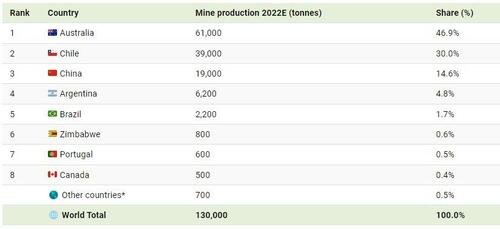 *U.S. production data was withheld to avoid disclosing proprietary company data
Australia, the world's leading producer, extracts lithium directly from hard rock mines, specifically the mineral spodumene.
Chile, along with Argentina, China, and other top producers, extracts lithium from brine.
Hard rock provides greater flexibility as lithium hosted in spodumene can be processed into either lithium hydroxide or lithium carbonate. It also offers faster processing and higher quality as spodumene typically contains higher lithium content.
Extracting lithium from brine, on the other hand, offers the advantage of lower production costs and a smaller impact on the environment. The following visual from Benchmark Minerals helps break down the carbon impact of different types of lithium extraction.
With that said, brine extraction can also face challenges related to water availability and environmental impacts on local ecosystems.
Historical Shifts in the Lithium Supply Chain
In the 1990s, the United States held the title of the largest lithium producer, producing over one-third of the global production in 1995.
However, Chile eventually overtook the U.S., experiencing a production boom in the Salar de Atacama, one of the world's richest lithium brine deposits. Since then, Australia's lithium production has also skyrocketed, now accounting for 47% of the world's lithium production.
China, the world's third-largest producer, not only focuses on developing domestic mines but has also strategically acquired approximately $5.6 billion worth of lithium assets in countries like Chile, Canada, and Australia over the past decade.
Furthermore, China currently hosts nearly 60% of the world's lithium refining capacity for batteries, underlining its dominant position in the lithium supply chain.
Meeting Lithium Demand: The Need for New Production
As the world increases its production of batteries and electric vehicles, the demand for lithium is projected to soar.
In 2021, global lithium carbonate equivalent (LCE) production sat at 540,000 tonnes.
By 2025, demand is expected to reach 1.5 million tonnes of LCE. By 2030, this number is estimated to exceed 3 million tonnes.
Loading...