---
Double Trouble: Multiple Tropical Depressions Take Aim At US 
Update (14:27ET): A pair of tropical depression (Tropical Depression 13 & 14) are forecasted to approach US shores early next week. 
"We could actually have Laura AND Marco sharing the Gulf of Mexico on Monday, and both making U.S. landfalls on Monday," University of Miami meteorologist Brian McNoldy told USA Today.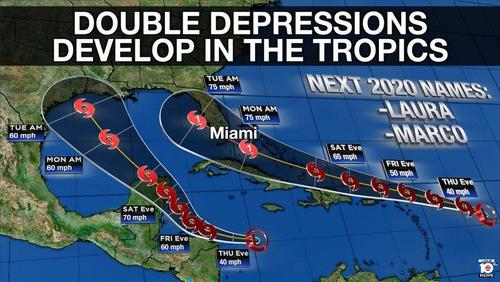 *  *  *
The National Hurricane Center (NHC) is monitoring three systems across the tropical central Atlantic this week. One of the systems, called Tropical Depression 13 formed in the Atlantic Wednesday night, moving west-northwest at 20 mph. 
Tropical Depression 13 could develop into Tropical Storm Laura during the day Thursday.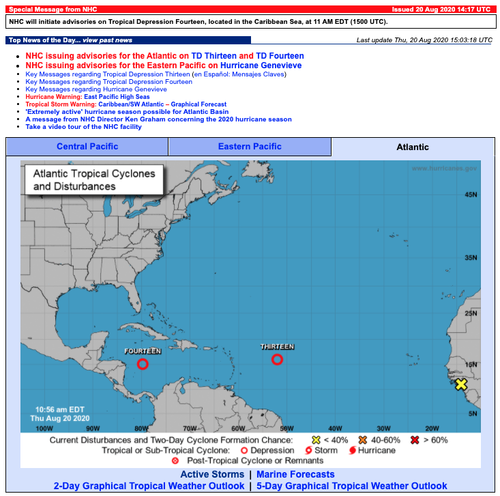 Here are the three systems NHC is monitoring: 
Tropical Depression 13
Invest 97-L
Tropical Wave
​NHC's most recent update (Wednesday night) forecasted Tropical Depression 13 could impact Florida early next week. The system is expected to produce tropical storm conditions for parts of the northern Leeward Islands on Friday evening. Tropical storm conditions could also be observed in the Virgin Islands and Puerto Friday night into Saturday. The long-range track shows Hispaniola, Cuba, the Bahamas, and Florida could be impacted early next week.
Spaghetti Models For Tropical Depression 13
Busy Tropics
Over the coming days, Tropical Depression 13's long-range model track could change. A more accurate understanding of trajectory should be seen by Friday.