---
Tropical Storm Beta Makes Landfall Over Texas; Hurricane Teddy Eyes Nova Scotia
The National Hurricane Center (NHC) is monitoring three tropical systems in the Atlantic Basin on Tuesday.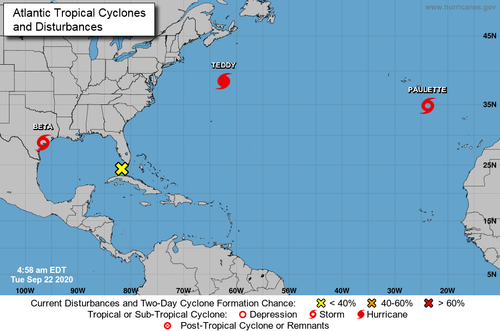 The first system is Tropical Storm Beta, which made landfall just north of Port O'Connor, Texas, on Monday night. By Early Tuesday, Beta was moving northwest at three mph and is expected to stall over Texas. It will then shift east-northeast later in the day and most likely weaken. Beta will continue moving inland over southeastern Texas through Wednesday and then east to Louisiana and Mississippi Wednesday night through Friday.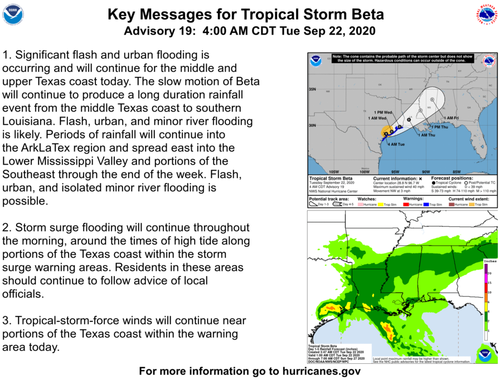 The second system is Tropical Storm Paulette, churning southeast of Azores with maximum sustained winds around 60 mph. Paulette is expected to shift south and southwest on Wednesday night and Thursday. There are no immediate threats nor coastal watches or warnings in effect.
Forecasters are also watching Teddy, once a powerful Category 4 hurricane with 140 mph winds, was downgraded to a Category 2 storm on Monday. As of Tuesday, winds are still around 100 mph, as the storm is about 435 miles south of Halifax, Nova Scotia, moving north-northwest at 28 mph.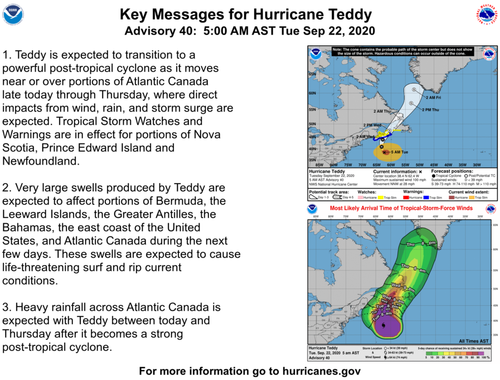 Meteorologist Bob Robichaud told Halifax News that Teddy's track is still "uncertain" but landfall will be made "between west of Halifax, to just east of Cape Breton" Wednesday.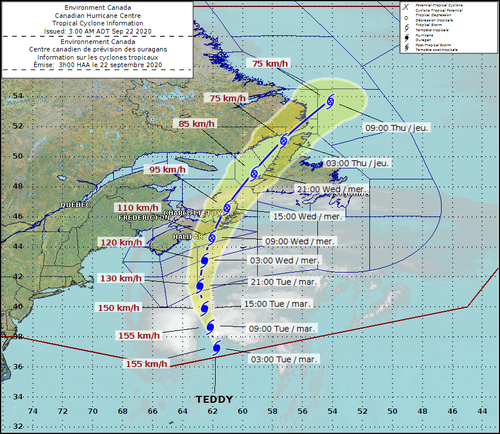 Readers may recall the reason behind the super active hurricane season is La Nina. This forced NHC to move into the Greek alphabet to name storms. 
Keep an eye on Beta over Texas on Tuesday, while following the developments of Teddy ahead of landfall on Wednesday.