---
Energy Companies Brace For Tropical Storm Zeta, Begin Rig Evacuations
Update (12:25 ET): Tropical Storm Zeta is on the verge of becoming a hurricane Monday afternoon as it swirls 140 miles southeast of Cozumel, Mexico, with maximum sustained winds of 70 mph, The National Hurricane Center reports.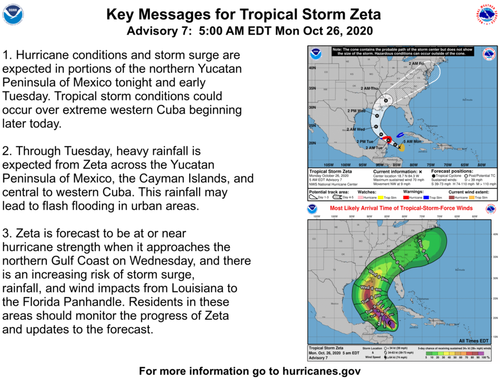 Zeta's track is taking a familiar one, could make landfall anywhere between southeast Louisiana and the western Florida Panhandle late Wednesday or early Thursday morning.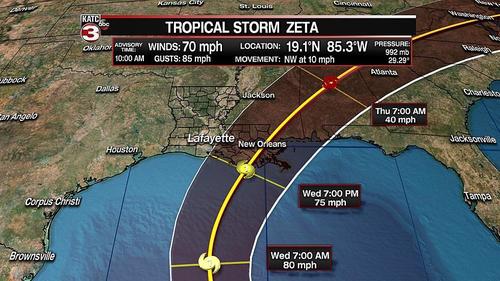 This storm, expected to be upgraded to a hurricane today or on Tuesday, could be the eight storm to make landfall along the Gulf Coast this hurricane season, with Louisiana's coastline taking the brunt of the landfalls. 
Here's a map of the amount of time spent in the 5-day NHC forecast cones so far in 2020.

Louisiana has had a cumulative of THREE WEEKS in the cone this year!

And now we have TD 28 tracking toward the same area. pic.twitter.com/dX4J9w6n2z

— Sam Lillo (@splillo) October 25, 2020
Ahead of the Zeta's arrival, a handful of energy companies released statements Monday morning about evacuations plans for workers at offshore rigs in the Gulf Of Mexico. 
Royal Dutch Shell said it would begin evacuating non-essential workers from platforms in the northern Gulf of Mexico ahead of Zeta's arrival.
"We will start reducing non-essential personnel," Shell spokeswoman Cynthia Bobski said. 
BHP Group Ltd announced evacuations have already begun for non-essential workers from the Shenzi and Neptune offshore production platforms. 
Equinor ASA also announced production shutdowns on the offshore Titan platform and evacuations of non-essential workers. 
"Equinor has decided to shut in production at our Titan facility and we will be evacuating staff from the platform today in advance of hurricane Zeta," said Equinor ASA spokesman Erik Haaland.
Weather models suggest Zeta's current track (subjected to change) is headed for a region in the northern Gulf known for an abundance of oil/gas offshore assets.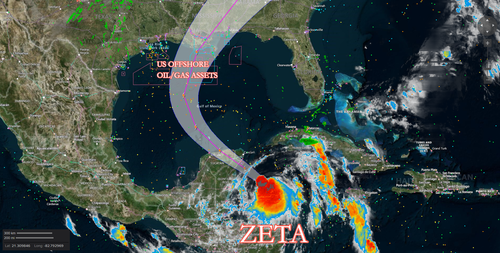 *  *  *
Tropical Storm Zeta formed in the Caribbean Sunday morning, with the National Hurricane Center (NHC) forecasting the storm could strengthen into a hurricane Tuesday as a midweek landfall is expected on the US Gulf Coast. Zeta could strike the northern Gulf Coast on Wednesday. More specifically, hurricane models, as of Sunday afternoon, predict storm surge, rainfall, and hurricane wind impacts could be seen from Louisiana to the Florida Panhandle.
To remind readers, on June 1, day one of hurricane season, we said this season "could be above average, with 13 to 19 named storms." And to our surprise, Zeta is the 27th named storm, tying 2005 as the most active hurricane season on record. 
In early August, one month before La Nina was declared, we said the hurricane season is about to go "from bad to worse with La Nina odds up." By Sept. 10, the Climate Prediction Center confirmed La Nina, a weather pattern in the Northern Hemisphere that fuels more tropical activity. 
On Sunday afternoon, Zeta was located a few hundred miles southeast of Cozumel, Mexico, and had maximum sustained winds of up to 40 mph. Here's NHC's 1700 ET Tropical Storm Zeta Outlook: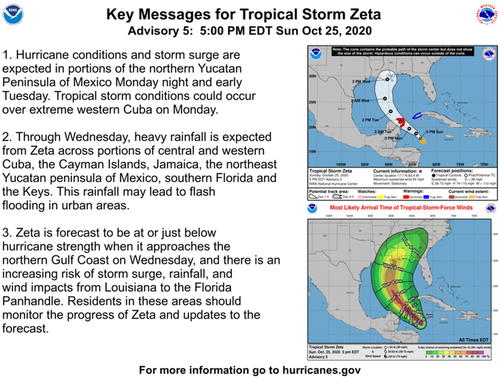 In early October, Hurricane Delta forced offshore oil and gas production on the Gulf Coast to reduce output by nearly two-thirds. Now Zeta is headed for the same region. 
Ahead of potential landfall on the northern Gulf Coast next week, Louisiana Gov. John Bel Edwards tweeted Sunday that "it's unfortunate we face another tropical threat this late in a very active season." 
Edwards said, "We must roll up our sleeves, like we always do, and prepare for a potential impact to Louisiana." 
If Zeta makes landfall in Louisiana, it would be the fifth named storm this season, with the previous landfalls made by Cristobal, Laura, Marco, and Delta.