---
US Corn Crop Deteriorates After Midwest Hit By Worst Drought In Decades
Farmers in Corn Belt states have been very concerned about their crops this spring as drought expands across the Heartland.
The latest weekly report from the US Department of Agriculture shows the US corn crop deteriorated by the most in nearly three years as drought conditions worsened in the Midwest. 
About 64% of the nation's corn crop was rated good-to-excellent in the weekly report, a five percentage-point plunge that was the most significant decline since August 2020. The drop was more than double of any analysts surveyed by Bloomberg.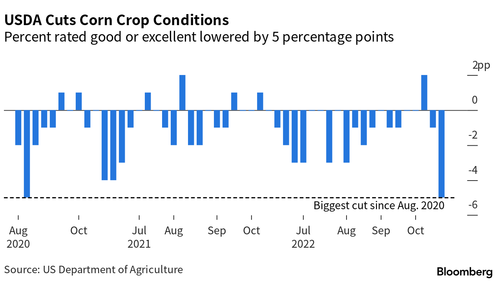 According to the US Drought Monitor, Illinois, Indiana, Iowa, Michigan, Minnesota, Missouri, Ohio, and Wisconsin, often called the "Corn Belt" states, are experiencing "exceptional drought" to "moderate drought." The timing of the drought, this early in the season, could stress young plants.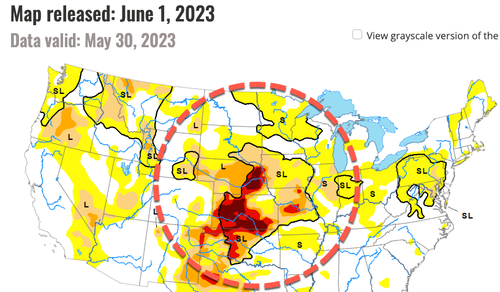 "Soil moisture levels decreased sharply," the USDA's Indiana field office noted in the report. 
Emerging signs of a #corn #drought in 2023 are raising concerns. Weather patterns reminiscent of 2012 and dry conditions in the Midwest could dramatically affect yields. Keep a watchful eye on the #CommodityMarket. #Agriculture #FoodSecurity 🌽☀️💧 pic.twitter.com/xETtEZ8e7c

— Jeremey Frost (@FearlessGrain) June 3, 2023
Approximately 34% of #corn production is within an area experiencing #drought. pic.twitter.com/perCjSTssO

— FarmPolicy (@FarmPolicy) June 1, 2023
It's 89F and the Timber ground near Taylorville, IL is always the first to show signs of drought stress of corn. My lawn and hydrangea are also the other first natural indicators of drought stress. pic.twitter.com/AKazB1PA8y

— Stephanie Porter (@skporter) June 1, 2023
First signs of drought, rootless corn syndrome! Please let it rain! @Iowa_Channel @ChannelSeed pic.twitter.com/uVkbOWFxIN

— Phillips Ag Center (@PhillipsAgCentr) May 31, 2023
The drought, according to Newsweek, could be the worst in three decades "since the 1983–1985 North American drought." 
It's still uncertain whether the report will be sufficient to stabilize Corn futures.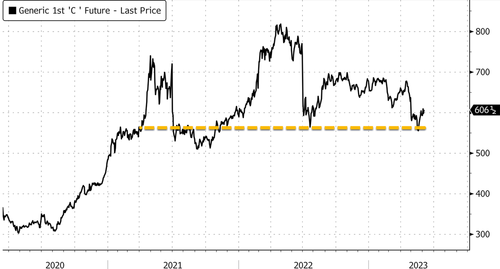 And maybe the drought in Corn Belt states is being exacerbated by El Nino.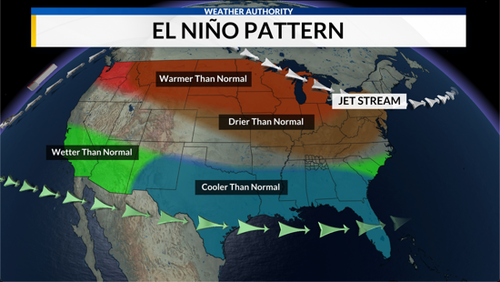 We've explained to readers: "El Nino Watch Initiated As Ag-Industry In Crosshairs." 
Loading...