---
US NatGas Prices Plunge To 28-Month Low On Oversupply Conditions
There's been a lot of pressure on US natural gas futures this winter. From an unseasonably warm winter to high production to increasing storage, heating fuel prices have tumbled a whopping 78% since August 2022. At some point, producers will take rigs offline due to prices below breakeven levels. 
NatGas prices for March slid 7% to $2.121/mmbtu, a 28-month low, on the prospect of lower heating demand as the winter season draws to an end mid-next month. 
The National Oceanic and Atmospheric Administration's latest 6-10 Day Temperature Outlook for the Lower 48 shows above-average temperatures for the eastern half of the US.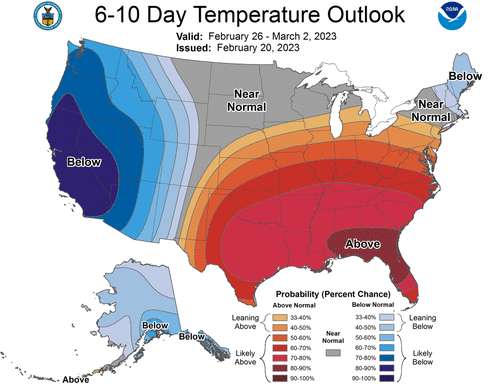 As well as the 8-14 day outlook.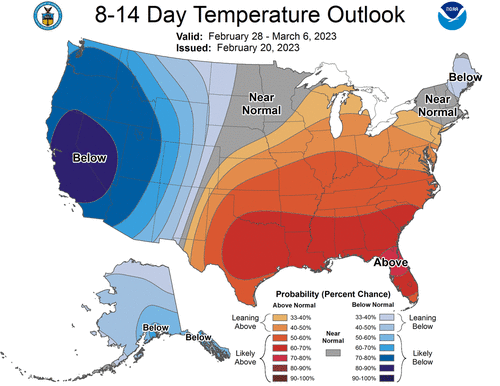 The Lower 48's 2-week temperature outlook shows warmer weather than average will continue through the end of the month into early February. Also, notice the 30-year average temperature trend is beginning to turn higher.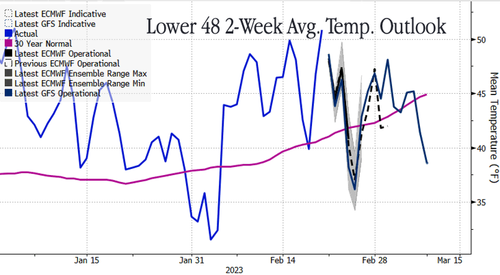 Houston-based NatGas research firm Criterion Research told clients Tuesday that increasing storage and production continue to push down prices. They said low prices might motivate some producers to remove rigs in the coming months. 
Natural gas futures have continued to drop on the back of two very weak months for storage withdrawals, with many concerns moving forward surrounding excessive supply for the balance of 2023. As an example of the weak winter we've had thus far, the EIA reported January underground storage withdrawals totaled -435 Bcf, which is well below the five-year average of -740 Bcf.

Criterion's current supply & demand models suggest February storage withdrawals won't be much better relative to prior years. EIA inventories fell to 2,266 Bcf for the week ending 2/10, and we expect a cumulative -351 Bcf to be pulled from the ground throughout the month.

The largest issue, aside from weak demand, has been extremely high production through the last few months. February natural gas production volumes materialized stronger than expected after quickly snapping back from the early-month freeze. Monthly production is on pace to average 101.3 Bcf/d, rather than the initial guidance of 100.0 Bcf/d. With that trend in mind, we have revised our 2023 Lower 48 production guidance to 100.7 Bcf/d, which is a 0.3 Bcf/d increase from the prior guidance of 100.4 Bcf/d.

The low prices may also begin to show up on the rig count in the coming months. Antero Resources, an Appalachian-focused exploration & production company, highlighted on their 4Q22 slide deck that they expect a decline in activity from the Haynesville Shale due to front-month gas prices falling below $3.00/Mmbtu. The sample cases were from January 2012, February 2015 and February 2019, when the peak-to-trough rig count fell by 44-71%.

At Criterion, we reproduced a similar graphic, and in the image below, we can observe that there have been four cycles with the Haynesville rig count weakening & strengthening since 2014. The region pulled back in early-2015 as natural gas prices dropped below the $3 mark, and then the subsequent recovery began in 2016/17 as prices rebounded toward the $3 barrier. Then we saw another up/down cycle in early- 2019 as prices weakened, which was followed up by a rapid rebound in 2021/22. We have taken a conservative approach to this analysis and included a 20% drop in rig counts over the next six months due to current prices. The caveat here is that the Haynesville is going to likely need to continue growing output in 2024+ as new LNG export capacity comes online via Plaquemines LNG and Golden Pass LNG.

As prices remain weak, we have also noticed the return of coal-to-gas switching. Natural gas accounted for 73% of the thermal power stack on Friday, which was one of the highest percentages we've seen since 2020 as futures continued to weaken.
... and it appears what's coming next could be a wave of producers taking rigs offline because of low prices. 
Loading...