---
US NatGas Prices Rise As Models Suggest 'Polar Vortex To Unload On US'
Natural gas futures bounced off 18-month lows during the holiday session period as the latest runs of long-term weather models suggest winter might not be over for the Lower 48. 
US NatGas futures for February delivery moved up 21 cents to $3.63 per million British thermal units. The price is now trading above the 76.4% Fibonacci retracement level of the main drop from the high of $10 in August 2022 and the low of $1.43 in June 2020. 
The price of NatGas tumbled to an 18-month low last week as mild weather boosted injections into storage facilities by slashing demand. Last week, the Energy Information Administration announced a rare rise in inventories of 11 billion cubic feet in stocks.
However, as we've pointed out in recent weeks and even days, first in "US NatGas Prices Slide To 18-Month Low On Warm Spell; Some Models Forecast Cold Blast In Weeks" and "California Pounding Continues, But Upcoming Large-Scale Weather Pattern Change On The Way," as well as "Siberia Records Minus-80 Degrees As Talk Of Polar Vortex Grows," long term weather models are showing the increasing possibility for colder weather. 
The latest run of the Global Forecast System (GFS) shows the possibility of the return of winter by the end of the month.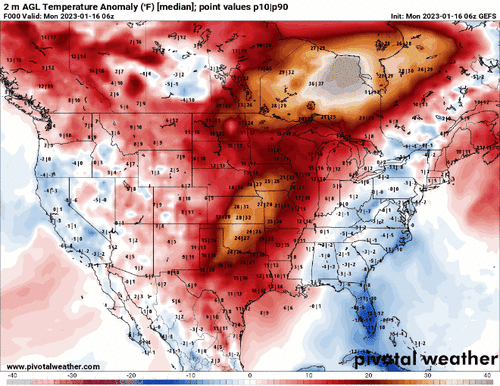 Both GFS and European Centre for Medium-Range Weather Forecasts (ECMWF) models for the Lower 48 show the possibility of a cold spell -- when both long-term models suggest colder weather, the likelihood increases.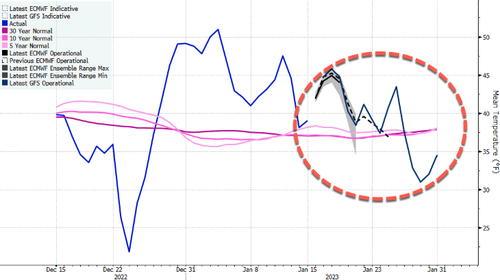 More mainstream meteorologists, such as Ryan Maue, are now pointing out that a wicked cold spell might be headed for the Lower 48. 
100%. Combination of Greenland and Siberian polar vortex to unload on Lower 48 in 13-17 day time frame.

— Ryan Maue (@RyanMaue) January 15, 2023
"Winter coming back," tweeted Weather forecaster Joe Bastardi. 
Week 2 all ensembles go to positive TNH which is widespread cold stormy pattern for US. Winter coming back pic.twitter.com/8hBFEezXlm

— Joe Bastardi (@BigJoeBastardi) January 15, 2023
NatGasWeather said cold returns around Jan. 26-30 and might last through the first week of Feb. 
Weekend weather data trends colder for Jan 26-30 and has led to higher nat gas prices to open new trading week. Longer-range data suggests cold can last into first week of Feb. Although, still very light demand the next 7-days to trudge through first. #natgas #oilandgas pic.twitter.com/S4u71B5pAV

— NatGasWeather.com (@NatGasWeather) January 16, 2023
Winter isn't over yet. 
Loading...