---
Tropical Storm Isaias Forms With South Florida In Crosshairs 
Update (7/30 (6:31ET)): Tropical Cyclone 9 became Tropical Storm Isaias in the overnight hours on Wednesday. It has become the ninth named storm of a very active 2020 hurricane season. 
As of 5:00 ET, the latest announcement from the National Hurricane Center (NHC) said Isaias was on track to strike South Florida on Saturday. The storm was moving northwest at 21 mph. It was approximately 100 miles west-southwest of Puerto Rico and roughly 160 miles southeast of Dominican Republic with maximum sustained winds of about 60 mph - or about 14 mph shy of being classified as a Category 1 hurricane.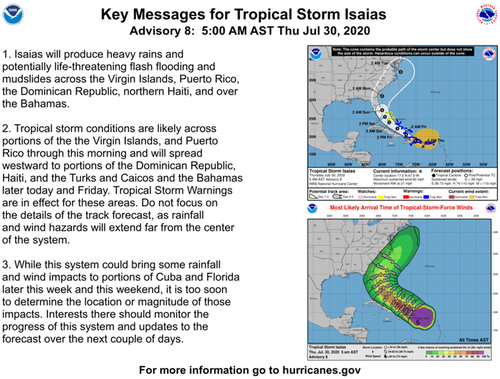 A Tropical Storm Warning is in effect for:
Puerto Rico, Vieques, Culebra
U.S. Virgin Islands
The British Virgin Islands
Dominican Republic entire southern and northern coastlines
North coast of Haiti from Le Mole St Nicholas eastward to the northern border with the Dominican Republic
Turks and Caicos Islands
Southeastern Bahamas including the Acklins, Crooked Island, Long Cay, the Inaguas, Mayaguana, and the Ragged Islands
Central Bahamas, including Cat Island, the Exumas, Long Island, Rum Cay, and San Salvador 
A Tropical Storm Watch is in effect for:
Northwestern Bahamas including Andros Island, New Providence, Eleuthera, Abacos Islands, Berry Islands, Grand Bahamas Island, and Bimini
As Isaias moves northwest on Thursday, "interests in Cuba and the Florida peninsula should monitor the progress of this system," NHC said.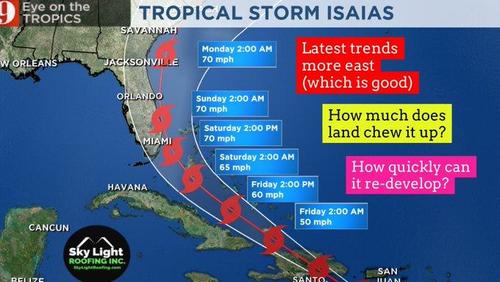 After South Florida, spaghetti models show the storm could traverse up the East Coast early next week. 
*  *  *
A weather disturbance is churning through the Atlantic Ocean that could strengthen into a tropical storm Wednesday, threatening South Florida by the weekend. 
The National Hurricane Center's (NHC) 5:00ET advisory on Potential Tropical Cyclone 9 shows the disturbance was located about 385 miles east-southeast of San Juan, Puerto Rico, with winds of 45 mph and was moving west-northwest at 23 mph.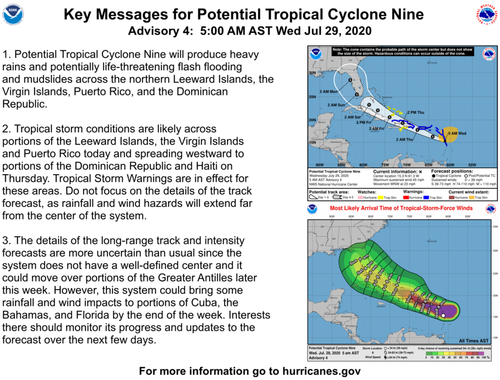 "Tropical storm conditions are likely across portions of the Leeward Islands, the Virgin Islands, and Puerto Rico today and spreading westward to portions of the Dominican Republic and Haiti on Thursday," NHC said.
The disturbance is expected to strengthen today as tropical storm warnings have been posted for Puerto Rico, Vieques, Culebra, the U.S. and the British Virgin Islands, Antigua, Barbuda, Montserrat, St. Kitts, Nevis, Anguilla, Guadeloupe, Martinique, St. Martin, St. Barthelemy, Saba, St. Eustatius, St. Maarten, and parts of the Dominican Republic and north coast of Haiti, said NBC Miami. 
Here is the latest update on Potential Tropical Cyclone Nine! Watch @juliedurdawplg for more. pic.twitter.com/CiBjYBnREq

— Julie Durda (@JulieDurdaWPLG) July 29, 2020
NHC's five-day weather model tracker shows the tropical storm could make landfall in South Florida by early Sunday morning.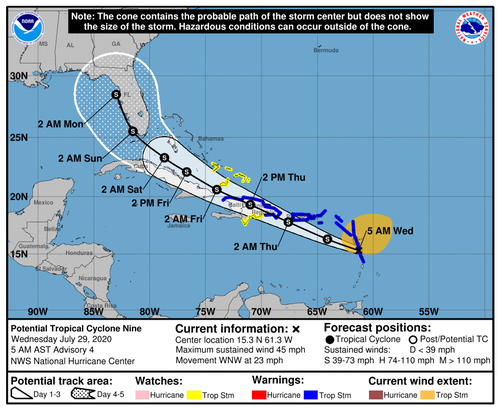 If the storm does track towards South Florida, this could be problematic for the state, already dealing with an explosion of COVID-19 cases and recently recorded a record number of virus-deaths.