---
Visualizing China's Dominance Of Seaport Trade Traffic
According to the World Bank, global seaport trade traffic reached 841 million TEUs (20-foot container equivalent units) in 2021.
In this infographic, Visual Capitalist's Freny Fernandes and Winifred Amase use that data to highlight the countries with the highest seaport trade traffic.

China Leads All Seaport Trade Traffic
With a third of the world's total seaport trade traffic surrounding its many ports, it's no surprise to see China on top of the list.
In addition to owning seven of the world's 10 busiest ports, the country also owns close to 100 ports across 63 other countries. This brought the country's container traffic up to 263 million TEUs in 2021.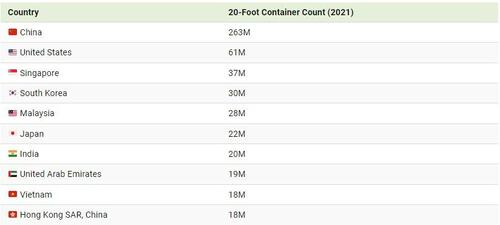 In second place is the United States, which saw container traffic of 61 million TEUs. Massive U.S. ports in Los Angeles and New York are some of the busiest ports on the continent.
Asian countries dominated the rest of the top 10 list, taking up seven of the remaining eight spots.
Singapore came in third with 37 million 20-foot container units passing through in 2021. The port handled 599 million tonnes of freight, making it the busiest single port in total shipping tonnage.
The ports in Dubai and Abu Dhabi make the United Arab Emirates a key player in Middle Eastern trade. With a container traffic of 19 million TEUs, the UAE is seventh on the list of nations with the highest seaport traffic in 2021.
Loading...