---
Watching The World's Soybean Vessels Signals China Has Ditched US For South America 
We reported on Friday morning that China would waive import tariffs for soybeans and pork products from the US. Though China has made this claim for nearly a quarter, shipments have yet to tick significantly higher: 
"China, U.S. should seek the right path to resolve their differences through more positive exchanges" - Xinhua

Like China lowering tariffs on pig imports which it so desperately needs to avoid a middle class uprising due to soaring pork prices?

— zerohedge (@zerohedge) September 13, 2019
China to exempt US pork and soybeans from additional trade war duties, in response to Trump's tariff delay.

China desperately needs both to avoid a food crisis

— zerohedge (@zerohedge) October 11, 2019
US export data of soybeans and pork products to China and the rest of the world started to decline around the beginning of the trade war. Trade disputes between both countries forced China to reroute its agriculture supply chains out of the US to South America. It seems that the rest of the world followed China by ditching US farmers for South American ones.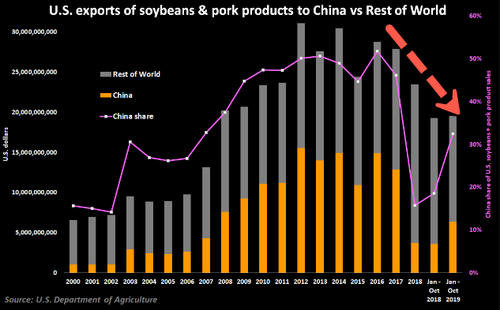 The US will likely never be the primary supplier of food to China again. China has diversified its soybeans and pork to Brazil and Argentina. Though a crop failure or two would send China back to US markets temporarily, the days where the US was a one-stop-shop for China are over. 
President Trump's proposal to restore metal tariffs on both South American countries is a result of the administration's outrage that China abandoned US farmers. Trump emphasized earlier this week that he would impose steel and aluminum tariffs on Brazil and Argentina because both countries are currency manipulators that are damaging US farmers. 
Though the currencies of Brazil and Argentina haven't plunged because of manipulation, but rather because their commodity-driven economies are imploding as China's economy decelerates to three-decade lows. 
And to visualize President Trump's frustration with China sourcing agriculture products from South America and not from the US. 
We have produced a map showing all dry bulk, general cargo, and other dry vessels carrying agriculture products (fertilizers, grains, oil/oilseeds, meals/feeds/pulses, softs, and other agriculture products) across the world. Several significant trends are spotted on the map below. The first is how a massive flow of vessels are moving back and forth from Brazilian and Argentinean ports to Europe and China. The second observation is the muted activity on either coast of the US.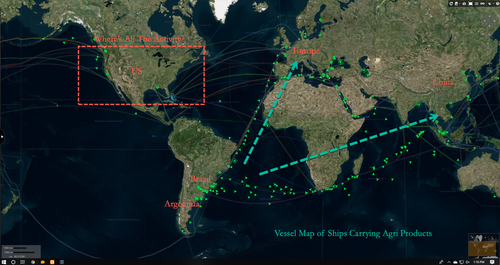 President Trump spent the month of Oct. pumping tweets of a trade deal and massive agriculture purchases by China. 
The deal I just made with China is, by far, the greatest and biggest deal ever made for our Great Patriot Farmers in the history of our Country. In fact, there is a question as to whether or not this much product can be produced? Our farmers will figure it out. Thank you China!

— Donald J. Trump (@realDonaldTrump) October 12, 2019
CHINA HAS ALREADY BEGUN AGRICULTURAL PURCHASES FROM OUR GREAT PATRIOT FARMERS & RANCHERS!

— Donald J. Trump (@realDonaldTrump) October 13, 2019
So if there was actually a trade deal (as what the president tweeted), wouldn't vessel activity on either coast of the US see increasing activity by now to haul farm products to China? 
What's even more puzzling is why a huge amount of vessel activity is seen in South America rather than the US. It could only mean one thing: China has abandoned US farmers.