---
We've Got Great News: Wholesale Egg Prices "Collapse"
The soaring cost of eggs at grocery stores has been a major pain point for consumers. There's a glimmer of hope that retail egg prices per dozen might have peaked as wholesale prices tumble. 
New data from Urner Barry, a market research firm that tracks wholesale food prices, shows its Urner Barry Egg Index has plunged 57% since peaking at $4.65 per dozen on Dec. 19. Wholesale prices are now at $2.01.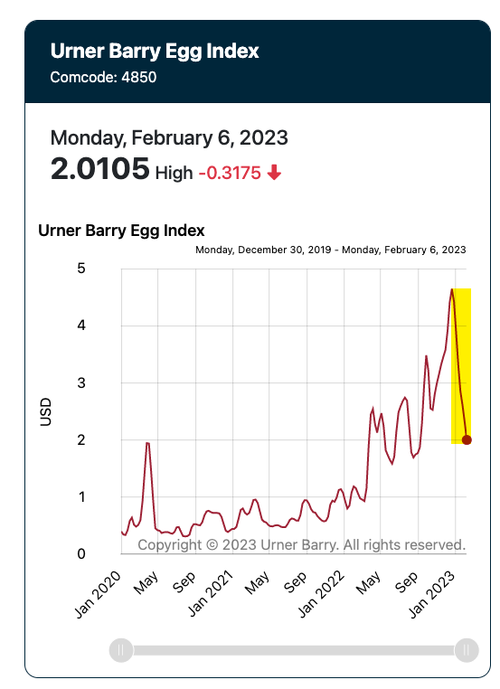 "Prices have collapsed, "Angel Rubio, senior analyst at Urner Barry, told CNBC. He added:
"That's a big, big adjustment downward."
The plunge in wholesale prices won't immediately reflect in retail prices though prices have likely peaked. This is wonderful news for breakfast lovers.
Recall that the cause of soaring egg prices was the worst avian flu outbreak ever that devastated domestic egg-laying bird populations. Tens of millions of chickens were culled last year to prevent the spreading of the deadly disease. 
In December, retail prices of a dozen large Grade A eggs cost around $4.25, up a mindboggling 200% since Aug. 2020, according to monthly Bureau of Labor Statistics data.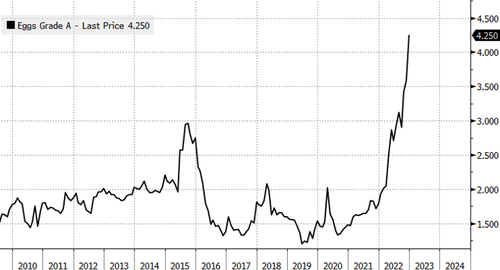 Rubio noted that it takes one month for retail prices to reflect wholesale price action, which means consumers might begin seeing some relief in February. He said prices might go back up ahead of Easter, which falls on Apr. 9 this year. 
The plunge in wholesale egg prices is a promising sign that peak food inflation might have already arrived. Tyson Foods, the largest US meat company, reported Monday that falling meat prices and waning demand led to a profit decline. 
Keep in mind the UN's global food price index peaked one year ago.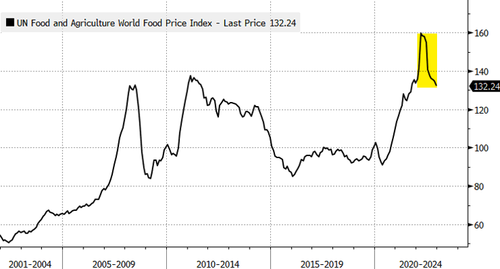 This might be the best news for US consumers who've drained their savings as they battle 21 months of negative real wage growth. 
Loading...