---
Why The World Just Can't Kick Coal
Authored by Robert Rapier via OilPrice.com,
U.S. coal demand has decreased due to the increased availability of natural gas, growth in renewable energy sources, and stricter environmental regulations.

Despite the decline in the US, global coal consumption, especially in Asia and China, which consumes 55% of the world's coal, continues to rise due to the relative cheapness and abundance of coal, and rapid industrialization.

Coal demand rebounded in the US and EU in 2021 and 2022 due to the European energy crisis and increased coal burning as an emergency measure, raising concerns over the ability to reduce global greenhouse gas emissions.
In the U.S., coal demand has been on a downward trend for about 15 years. There have been three significant drivers behind this decline.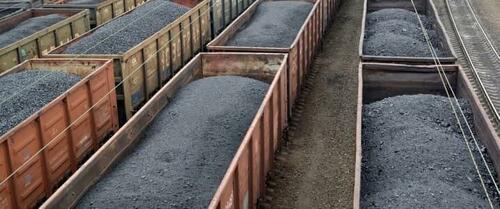 One of the primary reasons for the decline in U.S. coal demand is the increased availability and affordability of natural gas. The advent of hydraulic fracturing (fracking) and advanced drilling techniques led to a significant expansion of natural gas production, resulting in lower natural gas prices. Many power plants have shifted from coal to natural gas as it produces fewer greenhouse gas emissions and can be more economically viable.
At the same time, there has been substantial growth in renewable energy sources like wind and solar. Falling costs and government incentives have made renewable energy more attractive for power generation, reducing the need for coal-based electricity.
Stricter environmental regulations on emissions, especially from coal-fired power plants, helped drive this shift. The regulatory changes were implemented to address air and water pollution, as well as climate change concerns. These regulations have made coal-based electricity generation less competitive compared to cleaner alternatives.
These are positive developments given coal's role as the fossil fuel source with the highest carbon dioxide emissions.
However, it's very important to note that U.S. demand is small relative to the world. The U.S. uses only 6.6% of the world's coal, so coal consumption trends outside the U.S. are even more important.
The news on that front isn't nearly as positive.
Coal consumption is still high and growing in many developing countries, particularly in Asia. This is due to the relative cheapness and abundance of coal, as well as the rapid industrialization of these countries.
China, for example, consumes 55% of the world's coal, and that consumption continues to rise. As a whole, the Asia Pacific region is responsible for 81% of the world's coal consumption, as well as the vast majority of the world's ongoing carbon dioxide emissions.
China's coal demand has increased for six straight years, setting new record highs in 2021 and 2022. Current heat waves in China have created a soaring demand for electricity, leading to unprecedented amounts of coal consumption at China's more than 1,000 coal-fired power plants. As a result, China is on track to set a new record high for coal consumption in 2023.
This trend is set to continue. Last year the Chinese government approved a record-breaking 86 gigawatts of new coal-fired power capacity. This raises significant doubts about whether China can meet its emissions goals by 2030.
Although China is the single biggest coal consumer, trends in developed countries have reversed since 2020. Prior to 2020, developed countries, especially in Europe and North America, were significantly reducing their coal consumption.
But demand rebounded in the U.S. in 2021, and in the EU in 2021 and 2022. That trend has continued into 2023. The primarily culprit has been the energy crisis in Europe, with led several European countries to delay coal plant phase-outs and increase coal burning as an emergency measure to compensate for reduced Russian natural gas supplies.
Coal companies in the U.S., which had been battered for years, surged as coal demand bounced back. Peabody Energy, which hit a low of $1.05 per share in November 2020, is now around $22 a share. Arch Resources saw its profits jump 12-fold from Q2 2021 to Q2 2022, and its share price quadrupled in response. Consol Energy saw its share price go from $4 in 202o to nearly $70 today.
Thus, the market is being incentivized to continue producing coal, because despite the need to reduce global greenhouse gas emissions, coal consumption continues to grow.
With China consuming the lion's share of coal, and with the Chinese government continuing to approve new coal-fired power plants, it is hard to be optimistic about the prospects for significantly reducing greenhouse gas emissions anytime soon. I will discuss the latest trends in greenhouse gas emissions in the next article.
In conclusion, while the challenges of reducing global coal consumption are significant, they may soon be overshadowed by the even greater challenges of curbing global oil consumption. There are viable alternatives for replacing coal, but the task of replacing oil is far more daunting because there are fewer economic alternatives. The decisions we make will ultimately be driven by the signals of change, but those signals are currently predominated by price and availability.
Loading...