---
Widespread 'Winter Kill' Risks In US Wheat Soar Amid Imminent Cold Blast
Lack of snow cover on fields and a cold blast down through the Great Plains and into Texas and the South could result in damage and even death of winter wheat crops.
The coldest air of the season is about to pour down from Canada, bringing dangerously cold temperatures where parts of Kansas could reach as low as -15F. The state is one of the top growers of red winter wheat.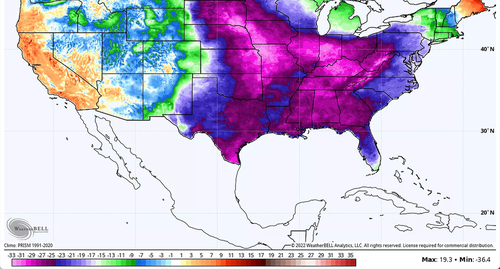 According to Bloomberg, citing an ag report via forecaster Maxar, winter wheat fields across southwest Kansas, northwest Texas, and Oklahoma lack snow cover, increasing the incidence of winter kill. Snow cover on fields insulates the wheat and protects crops from cold. 
"Wheat will be at risk of winter kill in areas lacking adequate snow cover – most notably in eastern Colorado and western Kansas.

"Many areas will see a white Christmas, although it will be a cold one," Arlan Suderman, chief commodities economist at StoneX, wrote in a note to clients Monday. 
In response to the imminent cold snap and the prospects of winter kill, hard red winter wheat futures are up more than 1% to $8.525 a bushel.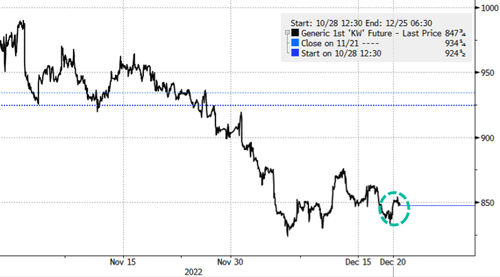 Here's what ag watches on Twitter are saying about winter kill risks:
Thursday's low temps. Some Winter kill expected. pic.twitter.com/NZkVCckQQ2

— Allen Motew (@QTweather) December 19, 2022
It seems that the US #wheat winter kill story is getting some traction...why not the previous week? I mean #natgas priced that cold snap in many days ago...and grains are waking up only now.

— Andrey Sizov (@sizov_andre) December 19, 2022
Be safe! It gets treacherous out there soon. Note Chicago area of nearly 2 feet in the afternoon forecast. Stay tuned! Kansas wheat in N and E gets some cover but W and S virtually none. Winter-kill likely. pic.twitter.com/yEnRvNLjCx

— Allen Motew (@QTweather) December 19, 2022
StoneX's Suderman warned: 
Commodity Weather Group warns that 20% of the national winter #wheat acreage will be susceptible to winter kill this week, including 45% of the hard red winter wheat crop, but that could rise to 30% of national crop in a worst-case scenario if snowfall fails further east. #oatt

— Arlan Suderman (@ArlanFF101) December 19, 2022
Some ag producers are already reporting what appears to be some of the first signs of winter kill. 
Looks worse in my picture than it actually is pic.twitter.com/TZM48hNDDf

— James Strand (@Jamesstrand22) December 19, 2022
Loading...