---
WSJ Forgets To Mention The Driving Force Behind Shale Boom Slowdown
The Wall Street Journal article, "U.S. Shale Boom Shows Signs of Peaking as Big Oil Wells Disappear," suggests that the United States' position as the top global oil producer may be in decline due to the imminent plateauing of shale growth.
"Frackers are hitting fewer big gushers in the Permian Basin, America's busiest oil patch, the latest sign they have drained their catalog of good wells," WSJ's Collin Eaton and Benoît Morenne wrote. They said top shale companies' best wells are producing less. 
According to FLOW Partners LLC's data, the average oil production from the most productive 10% of wells in the Delaware area of the Permian Basin was 15% lower in the previous year compared to the highest output in 2017. Despite experiencing a significant surge, oil production growth in the U.S. has slowed down and has not yet returned to its pre-pandemic peak of approximately 13 million barrels per day.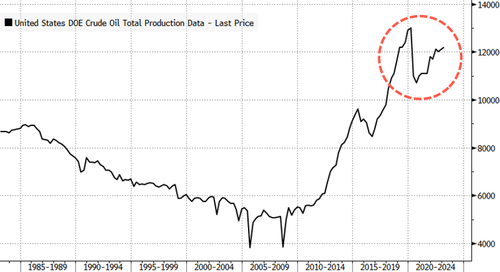 Shale growth slowdown was blamed on "investor pressure on companies to curtail spending and limit growth in favor of generating higher returns," WSJ authors noted. 
FLOW said Chevron's wells in Culberson County, Texas, produced an average of 42% less oil last year than those that started production in 2018. Additionally, Novi Labs' data indicates that the most productive 10% of wells that Chevron brought online in the Delaware region of the Permian Basin last year were roughly 25% less productive compared to its wells the year before. 
Chevron Chief Executive Mike Wirth offered some insight last week into the shale slowdown, indicating production growth and drilling activity seen last decade "is unlikely to be repeated. "
The key question is why these wells are yielding at reduced outputs. Is it because North America's oil reserves are being depleted? 
Well, probably not. And what is astonishing is that WSJ authors entirely 'forgot' to mention one major contributor to the slowdown in shale production: the Biden administration has been intentionally destroying the energy sector, preventing exploration, drilling, processing, and refining. 
So what's next for America's energy independence? 
"The world is going back to a world that we had in the '70s and the '80s," said ConocoPhillips Chief Executive Ryan Lance, during a panel at the conference called CERAWeek by S&P Global. Lance warned that OPEC would soon supply more of the world's oil.
The days of explosive growth in U.S. shale oil production appear to be over. We pointed this out late last year. Odd that WSJ entirely left out Biden's anti-oil agenda and its effects on production from its reporting. 
Loading...