Courtesy of Lee Adler of the Wall Street Examiner 
I hope you are enjoying a fine summer weekend (if you are in the northern hemisphere)! I was on the road for most of the past week and have a lot of catching up to do. The Treasury and Fed reports and market updates will all be posted this weekend, but I wanted to take a quick break to share a few thoughts with you first.
The government published food stamp data for May this week. There's nothing here that you don't already know. The news on this has been bad since 2007. But you may not have seen this chart before. There's something interesting in it that may be another signal that the market may be beginning to reflect not only a financial crash, but an economic one that has been under way since May. It could mean that what we saw last week in the stock market may just be a prelude to the main event, a main event that could last for months.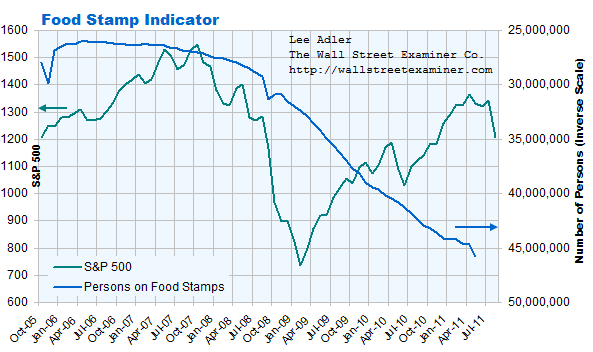 Total food stamp recipients rose by 1.1 million in May. That represented a dramatic acceleration from the recent rate. Enough QE2 had trickled down from December to April to slow the growth rate of people entering the program to about 100,000 per month. The last time we saw an acceleration of this magnitude was in September 2008. That was at the beginning of the 2008 crash in the stock market and economy.
This rise in food stamp use confirms the evidence I have been tracking in the Professional Edition Treasury udpates showing a sharp drop in government withholding tax receipts in May suggesting the return of the recession that had been hidden by the government's propping of the markets and economy. I had repeatedly warned Professional Edition subscribers that once the propping stopped, the markets would collapse, and that once government stimulus payments were withdrawn the economy would return to contraction. In recent weeks I have reported in the Treasury updates and have mentioned on our Radio Free Wall Street podcasts that it appeared that the economy had suddenly gone into free fall beginning in May. This data on the food stamp program tends to confirm that.
It also suggests that the US economy has been in a 4 year, uninterrupted decline with more and more people falling into poverty each month since May of 2007. Nearly 20 million new recipients have entered the program since then. That's about 6% of the US population. Another way of looking at it is that 1.5% of the American people have been falling into poverty each year.
The suggestion in this sudden acceleration of the decline is that things are about to get much worse for the economy and the financial markets and, in particular, more and more Americans who lose their jobs and find it increasingly difficult to find work. It is a heartbreaking situation, and one that government is seemingly powerless to combat. If low taxes, increased government spending and massive Fed money printing all in concert have failed to stem the tide, what's next? Based on my research into the primary drivers of market liquidity, I don't believe that with the markets at these levels, investors have even begun to recognize the answer to that question. We are on the verge of something historic and cataclysmic.
*****
Our Radio Free Wall Street podcast recorded Friday, is free and available to all listeners. I make one of these available on a free basis once every 2 or 3 weeks. We post these podcasts 2-3 times per week. Each is typically around 12-15 minutes in length. This one was a little longer. Click here to download and listen now.
I hope that you have done your utmost to prepare for the crises and critical challenges that lie immediately ahead. If you are not already a subscriber, there's no better time than now. Click here to try WSE's Professional Edition risk free for 30 days!