---
Americans' Vaccination Cards May Be Only Record Of COVID Immunity - So Keep Them Safe
If you have a tendency to misplace your smartphone or wallet, beware: losing your COVID vaccine card could create serious headaches for people, since the physical cards are in many case the only record that an individual was vaccinated - meaning it might soon double as a de facto passport for anybody who wants to leave their home.
As Forbes pointed out in a piece published over the weekend, some destinations, cruise lines and major sports venues are already requiring travelers to provide proof that they have been fully vaccinated against the virus. And if you're among the ~48MM Americans who have been "fully vaccinated" (ie received either two doses of the Pfizer or Moderna jabs, or 1 dose of the JNJ jab, with at least two weeks passing since the final dose).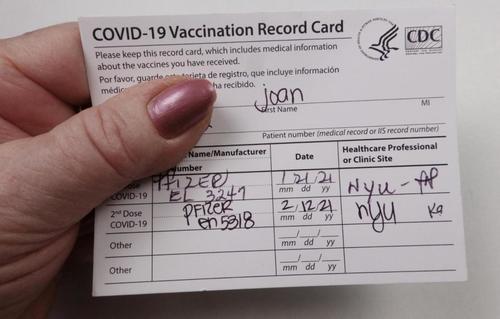 Anybody who loses their card is asked to return to the site where they were vaccinated, and ask for another one.
"If you do not receive a Covid-19 vaccination card at your appointment, contact the vaccination provider site where you got vaccinated or your state health department to find out how you can get a card," according to the CDC website.
Of course, that's easy enough if you were vaccinated at a pharmacy chain but more difficult if you had to travel cross-state or inter-state to be vaccinated at a drive-through or pop-up event.
All Covid-19 vaccination providers are required to report data within 72 hours in their state's immunization system, so there should be a back-up record of your vaccination status there. The CDC has a list of the Immunization Information System (IIS) in each state, which is where to start if you need a replacement card and either can't remember where you were vaccinated or have difficulty contacting the facility.
While digital vaccine passports may become a reality in the future (they're certainly closer to reality in Europe than in the US, despite the fact that the US is further ahead in its vaccination campaign). That's because EU members like Greece and Spain badly need to salvage this year's tourism season, or risk serious economic blowback as the critical tourism season remains shuttered for a second year.
But for now, at least, the only record for Americans is their paper card. Here are a few recommendations for keeping it safe (text courtesy of Forbes):
Make a photocopy of your vaccination card.
First and foremost, make a duplicate of your card. Keep a hard copy on file in a safe place.
Get your CDC vaccination record card laminated
Laminating your vaccination card will make it more durable and protect it from wear and tear. Do this after you are fully vaccinated, so you can carry your card in your wallet or purse without damaging it.

You can laminate your card yourself with self-adhesive laminating sheets available at most office supply stores.

But an even easier, cheaper option is to have a professional laminate your vaccination card for you. Staples is providing free lamination of vaccination cards to customers who use the coupon code 81450. The promotion currently has no end date. Office Depot, which also owns Office Max, will laminate vaccination cards for free for all fully-vaccinated people through July 25.
Take a photo of your CDC vaccination record card
"Keep your vaccination card in case you need it for future use," says the CDC website. "Consider taking a picture of your vaccination card as a backup copy."

You should store an image of your Covid-19 vaccination record card in your photo library or a digital wallet on your smartphone, where it can be easily retrieved.

In addition, email yourself a copy of the image and download it to your computer or laptop. That way, you'll have one copy on your phone and another on a second device. This will come in handy if you plan to book travel or other activities that require attaching documents that prove you have been vaccinated.
Ask for a digital backup of your vaccination card
Many digital-identification apps allow you to store digital versions of health records, including a vaccination record card, on your phone, but choosing one with tight privacy controls is paramount. One reputable option is Airside's Digital Identity & Health Passport App, which stores data only on the user's encrypted device and allows users to control not only with whom they want to share their information but for how long.
To be sure, it looks like at least one US state is pushing back against the vaccine passport trend, with Florida Gov. Ron DeSantis promising that there won't be strict requirements asking people to prove their vaccination status in the Sunshine State, unlike in New York, where Gov. Andrew Cuomo is relying on vaccine passports to help accelerate the state's reopening.