---
Asian Stocks Tumble As Japan Declares Third COVID-19 State Of Emergency
Update (0750ET): As expected, PM Suga has officially declared the new state of emergency, apologizing to those impacted while offering some reassurances of a 5 trillion yen contingency fund ($46.4 billion) to soften the financial repercussions for individuals. 500 billion yen ($4.6 billion) will also be set aside to support Japanese firms, he said.
JAPAN PM SUGA DECLARES VIRUS EMERGENCY IN TOKYO AND 3 AREAS
JAPAN PM SUGA APOLOGISES FOR DECLARING STATE OF EMERGENCY AGAIN
JAPAN'S PM SUGA: 500 BILLION YEN WILL BE SET ASIDE TO SUPPORT COMPANIES.
The declaration - officially announced by Suga Friday night in Tokyo - was earlier endorsed by a panel of experts advising the Japanese government on COVID-19. Both the governors of Tokyo and Osaka requested the emergency status.
* * *
Japanese stocks tumbled on Friday, dragging down stock indexes across the region to cap off Asian equities biggest weekly drop in a month, as Prime Minister Yoshihide Suga declared a state of emergency in Tokyo, Osaka, Kyoyo and Hyogo in the hopes of tamping down the country's worst COVID-19 outbreak yet. The lockdowns rules will take effect Sunday and continue through May 11.
Notably, the state of emergency will coincide with the Golden Week holiday.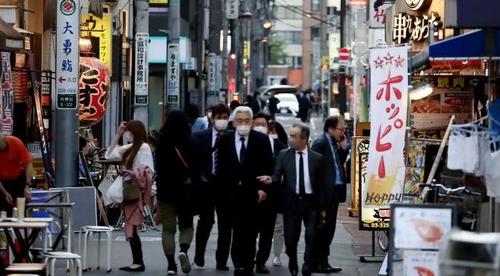 The state of emergency, covering roughly a quarter of Japan's population of 126 million and about one-third of the country's economy, is being imposed just three months before the Tokyo Olympics are slated to begin.
Suga is set to finalize the decision at a COVID-19 task force meeting Friday evening.
Under the emergency, large events will effectively be banned from having an audience, while fewer buses and trains will operate on weekends and holidays, according to a draft plan seen by Nikkei. Tougher restrictions such as asking establishments serving alcohol to temporarily close and shutting down major commercial facilities are expected to be in place from Sunday through May 11. Commercial centers including department stores and shopping malls will be asked to shut, with the exception of floor space to sell daily necessities. The state of emergency will be imposed on top of a quasi-state of emergency covering 10 prefectures whereby bars and restaurants are asked to close by 2000 local time. But these restrictions failed to surpass 5,000 for a second straight day on Thursday.
"We will take targeted steps around the holiday period to stop the spread of infections by all means," Suga said Thursday after meeting with members of his Cabinet including health minister Norihisa Tamura and Yasutoshi Nishimura, minister in charge of the government's coronavirus response.
A Ministry of Health, Labor and Welfare panel estimated that mutant strains have driven about 80% of all new cases in Osaka and Hyogo, and are rapidly growing in Tokyo. 
Across Japan, more than 5,500 new cases of COVID were reported on Friday.

Source: Johns Hopkins
The upcoming state of emergency will be the country's third, and while Suga insists that it won't impact the Olympics, public opinion polls show growing public dissatisfaction with the plan, with a plurality saying the Games should be cancelled. Next month, a top official from the IOC will visit Tokyo for the purposes of making a safety assessment. And although President Joe Biden has given his blessings for the Games to continue, he's not expected to attend.