---
Aussie News Show Apologises For Implying Queen Could Benefit From Ivermectin
Authored by Daniel Teng via The Epoch Times,
Australian news program "A Current Affair" has apologised for accidentally implying Queen Elizabeth II—who is suffering from COVID-19—could benefit from being treated with ivermectin.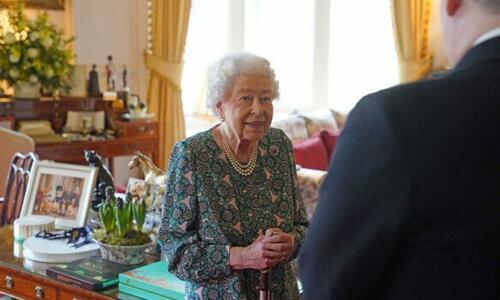 Queen Elizabeth II speaks during an audience where she met the incoming and outgoing Defence Service Secretaries at Windsor Castle in Windsor, Britain, on Feb. 16, 2022. (Steve Parsons/Pool/Reuters)
The segment produced by the program showed a video package including a voiceover, interview, and images of two different drugs, which, when edited together, unintentionally implied to the viewer that general practitioner, Dr. Mukesh Haikerwal, was suggesting the head of the British royal family could benefit from ivermectin.
The program, which aired on the evening of Feb. 21, starts with footage of Dr. Haikerwal walking around his clinic.
The voiceover begins:
"Dr. Mukesh Haikerwal says a COVID patient the Queen's age should be isolating, and might benefit from new medicines currently approved for high-risk patients at Australian hospitals."
The video then cuts to images of Sotrovimab, a novel monoclonal antibody treatment, and Stromectol, the U.S. brand name for ivermectin.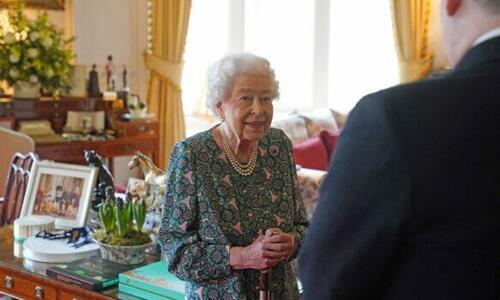 The shot from Nine's "A Current Affairs" program including an image of Stromectol, the U.S. brand name for ivermectin, which was published on Feb. 21 and subsequently edited and removed. (Screenshot by The Epoch Times)
The interview with Dr. Haikerwal then picks up again with the doctor saying:
"These tablets, or these infusions, can make a dramatic difference to their immediate welfare and health to how they feel, but also the long term benefits as well."
The choice of positioning the shot of Stromectol in between the narration and Dr. Haikerwal's quote conveyed a meaning the show did not seem to intend.
The clip was quickly picked up on social media and gained traction—given the contentious nature of ivermectin.
Queensland Senator Gerard Rennick posted the clip on his Facebook page saying, "What does Channel 9 know that we don't? Is Ivermectin (Stromectol) … being administered to COVID patients at Australian hospitals?"
"The Therapeutic Goods Administration and Health Departments have been caught out lying on so many occasions it would not surprise me," he said.
A spokesperson from the program said producers had apologised to the doctor and the program has been corrected.
"Last night our report on the Queen contained a shot that shouldn't have been included. The shot was included as a result of human error," according to a statement sent to The Epoch Times.
"We were highlighting an approved infusion medication called Sotrovimab and the report accidentally cut to a shot of Stromectol. As a program we've done numerous stories highlighting the concerns around taking Ivermectin as a treatment for COVID-19.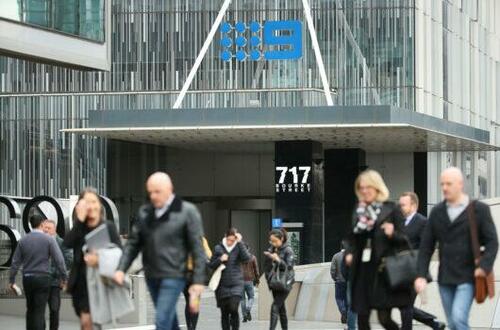 The Nine logo in Melbourne, Australia, on July 26. 2020 (Scott Barbour/Getty Images)
"We did not intend to suggest Dr. Mukesh Haikerwal endorsed Stromectol. We've apologised to him this morning, and he has accepted that apology," the statement read.
The spokesperson added that "A Current Affair" did not intend to suggest the Queen was using ivermectin.
Meanwhile, Dr. Haikerwal took to Twitter to post a link outlining what drugs were approved in Australia to treat COVID-19.
Australia's federal Department of Health re-emphasised that ivermectin does not have regulatory approval for treating COVID-19 in Australia or in any OECD country.
"Oral ivermectin (Stromectol) is approved by the Therapeutic Goods Administration (TGA) for the treatment of river blindness, threadworm of the intestines and scabies, and is available on prescription for these indications," a federal health department spokesperson said.

"Certain specialists are permitted to prescribe ivermectin for unapproved indications where the specialist believes it is appropriate for a particular patient. This restriction is outlined in the Poisons Standard."
Drug regulatory bodies including Australia's TGA and the U.S. Food and Drug Administration have taken a firm stance against the use of ivermectin for treating COVID-19.
In November, the TGA fined an Australian man $7,992 (US$5,754.84) for advertising ivermectin and zinc lozenges to treat the disease caused by the novel coronavirus.
Ivermectin is a generic medicine that can be produced cheaply in many places around the world and has been widely used in humans against parasitic worms, and to combat scabies, lice, as well as rosacea. It is also used as an anti-parasite drug in livestock, including horses and cows.
Some doctors and healthcare professionals have considered ivermectin as a suitable alternative for tackling COVID-19, especially when used in early treatment.