---
Beijing Orders Passengers To Scan QR Health Codes Before Entering Uber 
The Chinese Communist Party (CCP) and domestic tech companies are developing new techniques to track and mitigate the spread of COVID-19. One way this is being done is through health QR codes. 
On Monday, Beijing authorities imposed a new rule for taxi firms and car-hailing platforms in the metro area that forces users to show their health QR codes before vehicle entry. 
"The move is a response to drivers repeatedly testing positive for the coronavirus," the state-run Global Times newspaper reported.
The color-based health QR code system produces a code about the user's health. 
As explained by RT News, "A 'green' one means they are free to roam around the capital, while 'yellow' and 'red' codes call for self-isolation or supervised quarantine."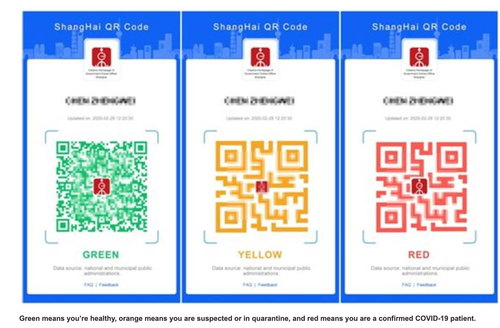 Health QR codes have already become mainstream in Beijing. Before entering shopping malls, restaurants, and even riding public transportation, these codes must be shown. 
This all comes as the polar vortex has split into two, and Arctic air pours into parts of China, especially into Beijing. According to Goldman Sachs, colder temperatures may increase the probability of COVID-19 outbreaks.
So the Chinese are taking immediate precautions in mitigating the spread by widening the use of health QR codes. There's also news of nearby cities to Beijing have instructed residents to stay home for the next couple of weeks as virus cases increase. 
An alleged video has surfaced on Twitter of Chinese officials sealing people in homes amid the virus outbreak. 
These new monitoring systems are leaving privacy experts worried that CCP is expanding their surveillance of health data to monitor citizens. 
Americans should be terrified that President-elect Biden may follow CCP by implementing some sort of tracking program to mitigate the spread in the US.