---
WHO Classifies "Omicron" As A "Variant Of Concern"; South Africa Lashes Out At Travel Restrictions
Update (1255ET): And with minutes to go before the market close, the WHO has just confirmed that it has just confirmed the "Nu" variant, aka variant B.1.1.529, has just been declared a "variant of concern" to henceforth be known as "Omicron".
It's Omicron pic.twitter.com/d0TR4kWV4f

— Meg Tirrell (@megtirrell) November 26, 2021
Here's more on what vax makers are saying, per CNBC.
What vaccine makers are saying about B.1.1.529:

-Moderna notes it's shown it can get into clinic (human trials) within 60 days; question is regulatory process from there. Manufacturing new doses could take a few months.

-BioNTech expects lab data within 2 weeks (1/2)

— Meg Tirrell (@megtirrell) November 26, 2021
The agency is also proclaiming that preliminary evidence suggests the variant carries "an increased risk of reinfection." Meanwhile, in the span of 3 hours, US markets have endured the biggest sell program since Sept. 23, and the biggest buy program since Nov. 3.
Meanwhile, SA Health minister Phaala, who has been speaking in a live Q&A Friday afternoon, insisted that reflexive travel restrictions that have been slapped on South Africa by a handful of western and other nations (and potentially soon the US). The travel bans "are completely against the norms and standards" advised on by the WHO, he said on an online press conference on Friday: "That kind of action is knee-jerk and panic...it is a risk to disclose what you have found," he said, adding that his country is being 'scapegoated.'
And the Netherlands is asking its people to stay home 'as much as possible' over the next three weeks, the minimum length of its latest lockdown.
Read the full WHO statement below:
The Technical Advisory Group on SARS-CoV-2 Virus Evolution (TAG-VE) is an independent group of experts that periodically monitors and evaluates the evolution of SARS-CoV-2 and assesses if specific mutations and combinations of mutations alter the behaviour of the virus. The TAG-VE was convened on 26 November 2021 to assess the SARS-CoV-2 variant: B.1.1.529.
The B.1.1.529 variant was first reported to WHO from South Africa on 24 November 2021. The epidemiological situation in South Africa has been characterized by three distinct peaks in reported cases, the latest of which was predominantly the Delta variant. In recent weeks, infections have increased steeply, coinciding with the detection of B.1.1.529 variant. The first known confirmed B.1.1.529 infection was from a specimen collected on 9 November 2021.
This variant has a large number of mutations, some of which are concerning. Preliminary evidence suggests an increased risk of reinfection with this variant, as compared to other VOCs. The number of cases of this variant appears to be increasing in almost all provinces in South Africa. Current SARS-CoV-2 PCR diagnostics continue to detect this variant. Several labs have indicated that for one widely used PCR test, one of the three target genes is not detected (called S gene dropout or S gene target failure) and this test can therefore be used as marker for this variant, pending sequencing confirmation. Using this approach, this variant has been detected at faster rates than previous surges in infection, suggesting that this variant may have a growth advantage.
There are a number of studies underway and the TAG-VE will continue to evaluate this variant. WHO will communicate new findings with Member States and to the public as needed.
Based on the evidence presented indicative of a detrimental change in COVID-19 epidemiology, the TAG-VE has advised WHO that this variant should be designated as a VOC, and the WHO has designated B.1.1.529 as a VOC, named Omicron.
As such, countries are asked to do the following:
enhance surveillance and sequencing efforts to better understand circulating SARS-CoV-2 variants.
submit complete genome sequences and associated metadata to a publicly available database, such as GISAID.
report initial cases/clusters associated with VOC infection to WHO through the IHR mechanism.
where capacity exists and in coordination with the international community, perform field investigations and laboratory assessments to improve understanding of the potential impacts of the VOC on COVID-19 epidemiology, severity, effectiveness of public health and social measures, diagnostic methods, immune responses, antibody neutralization, or other relevant characteristics.
Individuals are reminded to take measures to reduce their risk of COVID-19, including proven public health and social measures such as wearing well-fitting masks, hand hygiene, physical distancing, improving ventilation of indoor spaces, avoiding crowded spaces, and getting vaccinated.
For reference, WHO has working definitions for SARS-CoV-2 Variant of Interest (VOI) and Variant of Concern (VOC). A SARS-CoV-2 VOI is a SARS-CoV-2 variant:
with genetic changes that are predicted or known to affect virus characteristics such as transmissibility, disease severity, immune escape, diagnostic or therapeutic escape; AND that has been identified as causing significant community transmission or multiple COVID-19 clusters, in multiple countries with increasing relative prevalence alongside increasing number of cases over time, or other apparent epidemiological impacts to suggest an emerging risk to global public health.
A SARS-CoV-2 VOC is a SARS-CoV-2 variant that meets the definition of a VOI (see above) and, through a comparative assessment, has been demonstrated to be associated with one or more of the following changes at a degree of global public health significance:
increase in transmissibility or detrimental change in COVID-19 epidemiology; OR
increase in virulence or change in clinical disease presentation; OR
decrease in effectiveness of public health and social measures or available diagnostics, vaccines, therapeutics
* * *
Update (1200ET): We're still waiting on the final word from the WHO, but it appears the vaccine race is on. J&J is claiming that it has already started testing its jab's efficacy against the "Nu" variant, which was first identified in South Africa.
Meanwhile, Pfizer director and former FDA chief Dr. Scott Gottlieb warned Friday morning that the "Nu" variant has major escape mutations that could help it evade natural immunity.
Essentially, Dr. Gottlieb's take is a wrap of what we already know: "What it is going to do is increase the importance of getting boosters"...but ultimately, the conclusion is this is nowhere near as bad as people are making it out to be.
However, now there are reports claiming the White House is weighing to follow suit with its own travel restrictions against South Africa.
That sends a pretty clear message: alert us to a potentially vaccine-defying new variant and we will...immediately cut off travel links with you.
But at least Pfizer shares are soaring, which tells us one thing: vaccines are now more important than ever since the "Nu" variant is showing us that natural immunity might not be enough.
For those who are still anxious, South Africa's Health Minister is holding a Q&A live now, appearing to say the same thing.
LIVE: South African health ministers hold Q&A on new COVID variant https://t.co/LF099hIzEN

— Reuters (@Reuters) November 26, 2021
Despite the facts on the ground.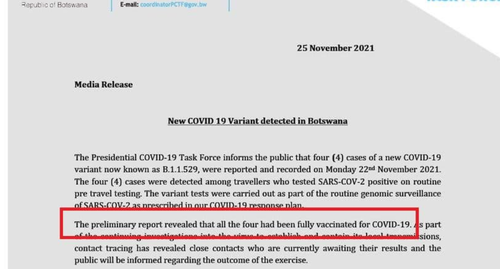 However, the South Africans are saying that the new variant will soon have its very own official WHO "greek" (which means "Nu" might be temporary?)
And 'stay at home' stocks are bumping.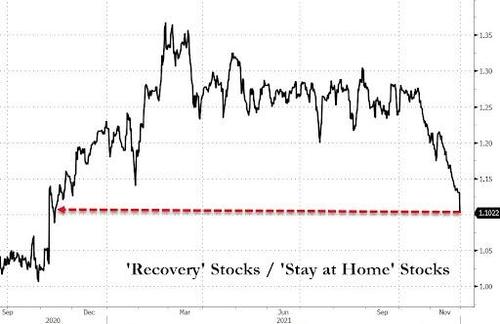 But within the last hour, it seems the SA health minister has confirmed one thing: while "there are breakthrough infections" and adds that the ratio of hospital admissions is "1 vaccinated for every 4 unvaccinated."
* * *
Update (1145ET): As European stocks wrap up their worst daily drop in more than a year, is it too late for US markets to see a major daily turnaround? We hope not...
Right now, it appears this is what they're going with: while a breakthrough infection has been documented, there's yet to be any proof that the variant causes "severe" breakthrough infections.
S. AFRICA SAYS BREAKTHROUGH INFECTIONS SEEN WITH VARIANT
S. AFRICA SAYS NO INDICATION THAT THOSE CASES ARE SEVERE
In the first sign of a  major turnaround, South African scientist Sanne has reportedly told the press that there's every indication that vaccines will continue to protect against "Nu", the COVID variant of the moment.
Here's more:
South African Health Minister Joseph Phaahla reacts to new #COVID19 travel bans: "The reaction of countries to impose travel bans are completely against the norms and standards as guided by the World Health Organisation." #B11529

— Laura López González (@LLopezGonzalez) November 26, 2021
Preliminary studies do suggest the #B11529 variant may be more transmissible, says South African Health Minister Joseph Phaahla. He emphasises that what scientists know about the #COVID19 variant is in its infancy. There is no evidence to suggest the variant makes you sicker.

— Laura López González (@LLopezGonzalez) November 26, 2021
South African Health Minister Joseph Phaahla: "All that we, did together with our scientists who made this discovery of the #B11529 variant, was to be in line with the norms and standards of the international community."

— Laura López González (@LLopezGonzalez) November 26, 2021
South African Health Minister Joseph Phaahla: "South African scientists simply said that, just as has been the case with other mutations, some of them have been more transmissible without increasing the severity of the disease. This is early stages." #COVID19 #B11529

— Laura López González (@LLopezGonzalez) November 26, 2021
Phaahla: "The same countries that are enacting this kind of knee jerk, draconian reaction [#COVID19 travel bans] are battling their own waves." He adds that many European countries are seeing daily infection rates much higher than SA. "This is not scientific ." #B11529

— Laura López González (@LLopezGonzalez) November 26, 2021
South African Health Department Acting Director-General Nicholas Crisp says the first he heard of #COVID19 travel bans against the country was at 10pm last night when the British High Commission messaged to apologise for the travel ban. #B11529

— Laura López González (@LLopezGonzalez) November 26, 2021
Right to Care CEO Ian Sanne saying #COVID19 cases remain under 3,000 a day. "We have every indication that vaccines are still effective in preventing severe disease & complications. Data is however small and early. Identification of this variant was just last week." #B11529

— Laura López González (@LLopezGonzalez) November 26, 2021
"We do think #B11529 is more transmissible and has already spread quite widely across South Africa. Laboratory tests are underway and will have more immunology work undertaken by next week." - @righttocaresa CEO Ian Sanne #COVID19

— Laura López González (@LLopezGonzalez) November 26, 2021
Meanwhile, South Africa Health Department Acting Director-General has reportedly received a message earlier today from the WHO claiming the agency will in fact designate the new variant as one of "concern."
Get ready for this short-term dip to get aggressively bought.
*  *
Update (1000ET): In the latest sign that the word will be at defcon four over the "Nu" variant before dinner - or perhaps even before the US market's early Friday close at 1300ET - an EU agency has just labeled "Nu" a "variant of concern".
The decision has apparently prompted the WHO to call an emergency meeting Friday to consider whether or not to do the same. As we reported earlier, public health officials are sounding the alarm as a new strain of the coronavirus has been detected.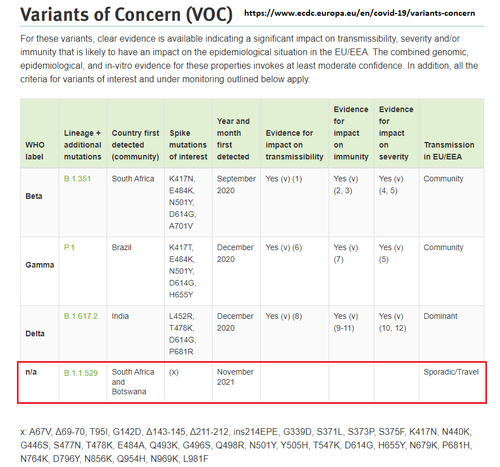 According to the latest reports, Hong Kong and the Netherlands have stepped up border restrictions. Hong Kong has barred non-residents from 8 different south African countries, from entering.
The new strain doesn't have an official name yet, but scientists first confirmed the apparently fast-spreading variant in South Africa. They say it is highly contagious, and shows signs that it might be able to easily overpower vaccines.
The World Health Organization is calling a meeting Friday to determine if they will declare the new strain a 'variant of concern'.
Even without the new strain, COVID cases have been on the rise for about a month, nearing an average of 100,000 per day, and experts worry it could be the start of a new wave.
The Dutch are already using "Nu" as a reason to tighten their lockdown restrictions on businesses. Starting Sunday, restaurants and other businesses will be subject to a 0500ET to 1700ET curfew. Schools will remain open, and the measures will be in place provisionally for 3 weeks, at least.
The CDC's latest forecast predicts between 4,100 and 12,000 people will be hospitalized with COVID in the US by mid-December.
Wall Street sell-side analysts are going all-in on "Nu" fearmongering: One Citi analyst note says the "accumulation of variations" in Nu suggest that "our fears have been realized". Then again, "concern over Nu" needs to be balanced with the failure of other variants to outmuscle delta as the world's most prevalent variant. However, Europe has been struggling with a resurgence of cases, while the US follows a similar path.
Although, in the US, Dr. Anthony Fauci is already telling cable news networks that the US has no plans to restrict travel from South Africa. At least, not yet.
* * *
In what is becoming a nightmare for thousands of traders (and an even larger number of public health officials, we imagine), the latest COVID variant to elicit a hysterical response - the ironically named "nu" variant" - has just been confirmed in Belgium, the first European country to confirm cases of the new strain.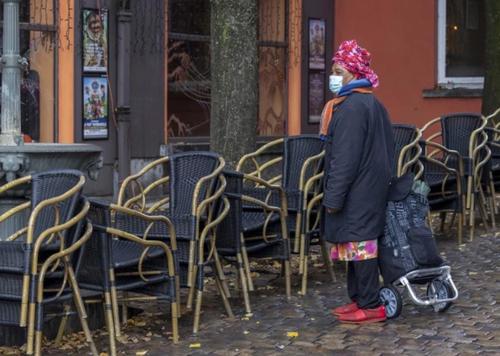 Two suspected cases of the new variant have been detected and confirmed in Belgium, according to local media reports. The strain was initially found in South Africa, Hong Kong, Botswana and Israel.
It's early days, but according to some the variant has already elicited major surges in infections. Enough so that news about the variant and panic about a more chaotic outlook for interest rates and the broader global economy has sent S&P 500 futures tumbling, and the VIX surging, in premarket trading, on an otherwise quiet post-Thanksgiving Friday morning, a day where markets close at 1300ET.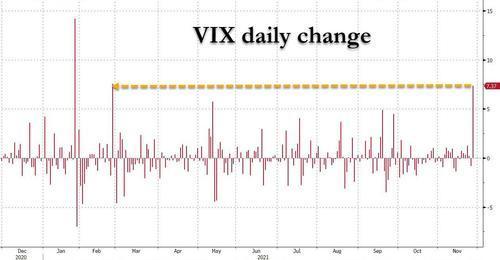 And rate-hike odds are already tumbling.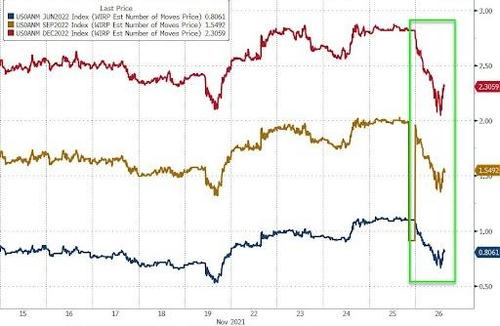 Finally, these charts should help readers put this all into context...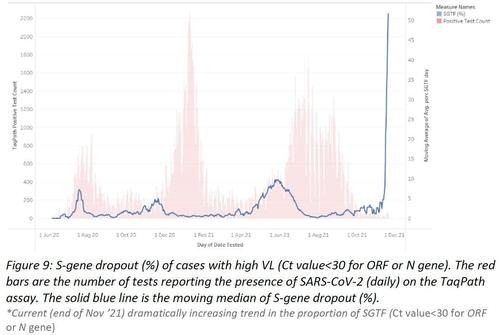 ...and...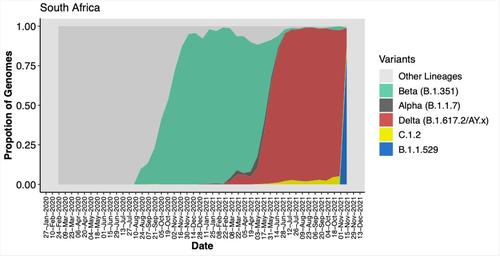 The Nu variant, formerly referred to as B.1.1529, was initially identified five days ago, first in Botswana, with subsequent confirmation and sequencing in South Africa where 100 cases have been confirmed. The variant has also spread to Israel and Hong Kong, according to Citi analyst Andrew Baum.
Of course, all of this comes with a pretty big asterisk: The analyst believes concern over Nu needs to be balanced against the failure of other concerning variants such as Beta to out-compete delta.
Belgium also confirmed that the "nu" cases involved a traveler who had just arrived in the country from "abroad". Already, Spain, the U, India and a handful of other nations have imposed new border restrictions, citing the new variant as the motive. Advisors in the UK have already declared the variant a serious threat (although they said the same thing about the last variant boogeyman, delta-plus).
One trader has some pretty interesting thoughts about where this is all going.