---
Biden Plans To Release Every Available Dose Of COVID Vaccine As US Falls Further Behind
Now that President Trump has (under threat of legal persecution) promised to go along with a peaceful transition of power later this month, Joe Biden is already trying to assert his authority by going beyond announcing his slate of cabinet nominees and announcing plans to make major changes to the administration's vaccine-rollout plan.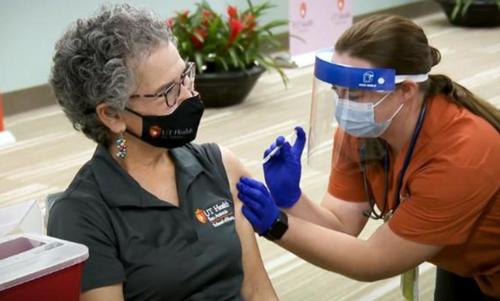 CNN reports that Biden will aim to release every available dose of the coronavirus vaccine when he takes office, breaking with the Trump administration's strategy of holding back half of US vaccine production to ensure second doses are available.
In theory, the decision could allow for a more expeditious rollout of vaccines. However, hospitals around the country have warned that they're lagging behind targets because of bureaucratic obstacles and other issues.
"The President-elect believes we must accelerate distribution of the vaccine while continuing to ensure the Americans who need it most get it as soon as possible. He supports releasing available doses immediately, and believes the government should stop holding back vaccine supply so we can get more shots in Americans' arms now," said TJ Ducklo, a spokesman for Biden's transition. "He will share additional details next week on how his Administration will begin releasing available doses when he assumes office on January 20th."
In New York, Gov. Andrew Cuomo has pursued punitive measures like fining hospitals for missing vaccination targets. These policies have sparked a war of words between Cuomo and his political archrival, NYC Mayor Bill de Blasio, with de Blasio accusing Cuomo of disrupting the vaccination rollout.
Biden's decision to switch up the vaccination rollout followed a letter filed by a group of governors urging DHHS Secretary Alex Azar and Operation Warp Speed Chief Operating Officer Gen. Gustave Perna to go ahead and distribute the "reserved doses" of the vaccine instead of holding them in stock.
The FDA reiterated to CNN that there's no evidence that immunity can develop with just a single dose, those vaccines need both doses. The FDA has also opposed using half-doses of the first dose, despite some evidence that the AstraZeneca vaccine is more effective when users start with a half dose.
A new study published in the Annals of Internal Medicine on Monday reduced the amount of the vaccine doses withheld to 10% for the first three weeks and supplying a steady dose of 6 million doses per week, the US could avoid up to 29% more cases over eight weeks.
Presently, the federal government withholds 50% of the available vaccine supply, distributing to states and other jurisdictions weeks later to be administered in a wave of follow-up vaccinations set for three weeks after the first. The US is still way behind its vaccination target, with only 6.25MM Americans having been vaccinated, well below the goal of 20MM by year-end 2020.