---
Blue States Lead US COVID Resurgence As "Double Mutant" Strains Discovered In California
COVID cases continued to climb in the US over the holiday weekend, as the 7-day average of new cases nationwide topped 64K yesterday, its highest level since March 1. The US reported just under 68K new cases yesterday, along with 804 deaths (for what it's worth, deaths in the US have continued to decline, as some have theorized that many of the new cases being recorded are the result of false positives).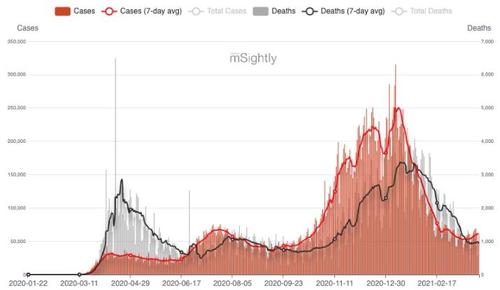 Source: mSightly
All told, the US has more than 30.7M confirmed coronavirus cases and 555K deaths.
Furthermore, Massachusetts public health authorities warned that the Bay State now accounts for roughly 25% of total cases of the P.1 coronavirus "variant" confirmed in the US. the mutant strain was first discovered in Brazil, and has been blamed for driving the sharp acceleration in mortality rates seen among younger patients in Latin America's largest economy.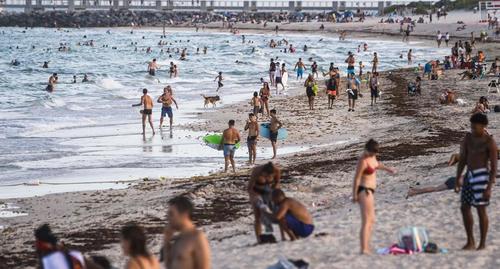 Researchers from MIT and Harvard have traced the mutant strain to a cluster on Cape Cod. The state announced the first case of the P.1 variant, which was originally detected in Brazil and is more transmissible than the original strain, on March 16, and said it was identified in a Barnstable County woman in her 30s. She first tested positive for the virus in late February, and at the time officials said there was no information available pertaining to her travel history or illness.
But Massachusetts isn't alone: Many of its neighboring northeastern states are also seeing new cases accelerate.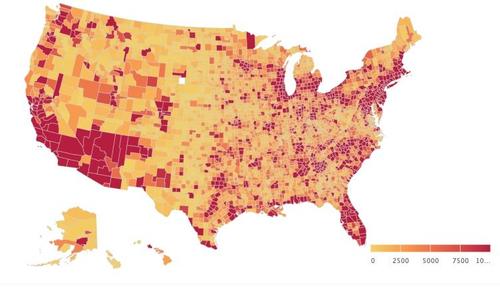 Source: mSightly
What's more, 13 US states are now in the highest COVID-19 risk level, up from 11 last week.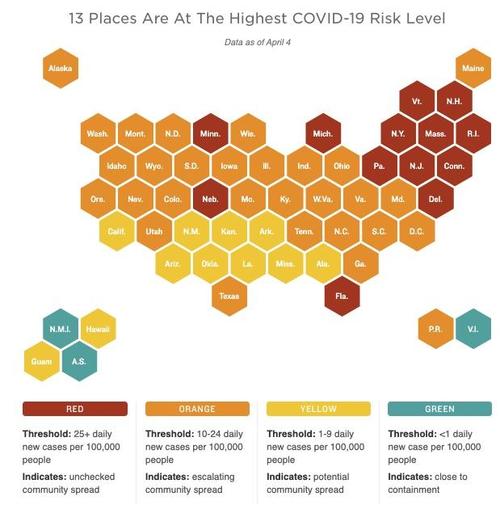 Source: mSightly
In Michigan, one of the states in the "red" column, federal officials have warned about a potential fourth wave of infections as the state emerges as one of the most troublesome hotspots in the country, with average daily infections now 5x higher than they were 6 weeks ago. According to state data, since Feb. 19, average daily new COVID-19 cases among children under 10 jumped 230%, more than any other age group. The second-highest increase in infections is in the 10 to 19 age group, which saw cases rise 227%. The trends in these groups exceed that of the state as a whole. Doctors and infectious disease experts in Michigan attributed much of the rise in pediatric cases to the reopening of schools and youth sports. State data show more than 40% of new outbreaks (defined as two or more cases linked by place and time) have been traced to either K-12 schools or youth programs.
As reports about the risks posed by mutant strains spread, researchers in California's Bay Area have confirmed a "double-mutant" strain first identified in India. The strain's arrival in the US was recently confirmed by researchers at Stanford's Clinical Virology Lab. Genomic sequencing was used to identify the strain, and at least 7 cases of the variant have been confirmed by the team. The variant is being labeled as the "double mutant" because it carries two mutations in the virus that helps it latch onto cells, according to Fox News.
"If you are in an elevator with someone that is infected with the variant you are more likely to be infected by that variant," said Stanford Clinical Virology Lab Director, Dr. Ben Pinsky.
Pinsky added that the variant could be more infectious because it accounts for 20% of cases in the hard-hit Indian state of Maharashtra. Cases there have increased 50% within the last week, he said.
As the US reacts to the "mutant" threat, Cornell University officially became the first Ivy League school to follow suit, announcing Sunday night that it plans to require students (and faculty, unlike Rutgers, which gave faculty a pass) to get vaccinated against COVID-19 if they want to be allowed onto the school's campuses in the fall. The decision follows a similar decision by Rutgers, New Jersey's flagship public university, announced that it would require all students to be fully vaccinated before returning to campus in the fall,
Last week, New Jersey-based Rutgers became the first major university to announce that it, too, would require students and staffed to get inoculated before the state of the fall semester.
'With the recent announcements of expanded vaccine eligibility in New York and other states, and increasing vaccine production, it is likely that all members of our community will be able to obtain vaccination sometime this spring or summer,' Cornell President Martha Pollack and Provost Michael Kotlikoff wrote in a joint statement.
On the vaccine front, 12 more US states are allowing all adults to sign up for vaccinations starting Monday.
Source: mSightly
Still, according to pubic health experts, the US is still a ways away from achieving herd immunity. Even after hitting a new record of more than 4M vaccinations delivered over the weekend, only about 18.5% of adults are fully vaccinated.
Looking abroad, India also made headlines Monday as health officials reported more than 100K new COVID cases over the prior 24 hours - the highest daily tally since late last year. Daily infections in India have climbed 12x since hitting a multi-month loaw in February, as authorities have eased restrictions, and scientists warned that mutant cases have "supercharged" the pandemic. Indian stocks tumbled on Monday, as the country's resurgent COVID outbreak has horrified investors.