---
Biden Says 'Rule Is Simple": Get Vaccinated Or Wear A Mask Until You Do
Update (1640ET): Building on the White House and CDC announcement, President Biden tweeted on Thursday that "The new rule is simple: get vaccinated or wear a mask until you do."
"The choice is yours."
The rule is now simple: get vaccinated or wear a mask until you do.

The choice is yours.

— President Biden (@POTUS) May 13, 2021
In other words, if you're wearing a mask in public you're now an anti-vaxxer who Biden has told his followers to 'treat with kindness and respect.'
Pres. Biden: If you see someone in a mask, "please treat them with kindness and respect."

"We've had too much conflict, too much bitterness, too much anger, too much politicization of this issue...Let's put it to rest." https://t.co/JnOdGRIaZy pic.twitter.com/bI0Y1AYkaI

— ABC News (@ABC) May 13, 2021
*  *  *
Update (1430ET): Shortly after AP reported that fully vaccinated people can shed their masks indoors with a ton of exceptions, the White House announced that "If you're fully vaccinated, you do not need to wear a mask – indoors or outdoors, in most settings."
Big news from the CDC: If you're fully vaccinated, you do not need to wear a mask – indoors or outdoors, in most settings.

We've gotten this far. Whether you choose to get vaccinated or wear a mask, please protect yourself until we get to the finish line. pic.twitter.com/XI4yPmhWaD

— The White House (@WhiteHouse) May 13, 2021
The Biden administration did not elaborate on what constitutes 'most settings.'
So are people going to be going around asking you for your vaccine card

— the dark knight (@josecarreras1) May 13, 2021
Annnnnnnnnd now they're walking it back. There are exceptions for travel, where masks are still recommended. Sounds like a healthcare exemption, too.

— Josh Wingrove (@josh_wingrove) May 13, 2021
*  *  *
As businesses and states resort to bribing people to take the COVID-19 vaccine, the benevolent Centers for Disease Control (CDC) in their ever-scientific wisdom is dangling yet another 'freedom' carrot above our heads; those who are fully vaccinated will be able to combat pro-mask Karens by officially easing indoor mask-wearing guidance - just two weeks after they said the exact opposite.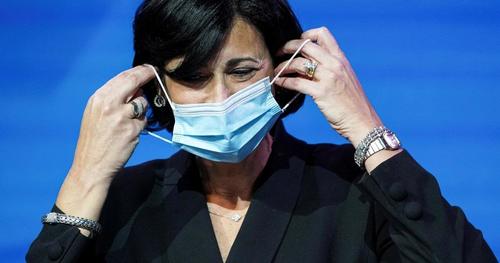 According to the Associated Press, "The new guidance will still call for wearing masks in crowded indoor settings like buses, planes, hospitals, prisons and homeless shelters, but could ease restrictions for reopening workplaces and schools. It will also no longer recommend that fully vaccinated people wear masks outdoors in crowds."
Oh.
So you can lose the mask if you're going to work or school, but will still need to wear one if you're around other people indoors, which apparently doesn't apply to workplaces or schools. Make sense?
The announcement comes as the CDC and the Biden administration have faced pressure to ease restrictions on fully vaccinated people — people who are two weeks past their last required COVID-19 vaccine dose — in part to highlight the benefits of getting the shot.

The eased guidance comes two weeks after the CDC recommended that fully vaccinated people continue to wear masks indoors in all settings and outdoors in large crowds.

Dr. Rochelle Walensky, the director of the CDC, was set to announce the new guidance on Thursday afternoon at a White House briefing.

During a virtual meeting Tuesday on vaccinations with a bipartisan group of governors, President Joe Biden appeared to acknowledge that his administration had to do more to model the benefits of vaccination. -AP
"I would like to say that we have fully vaccinated people; we should start acting like it," said Utah Gov. Spencer Cox (R) in a statement to Biden. "And that's a big motivation get the unvaccinated to want to to get vaccinated."
"Good point," a fully Biden responded. "we're going to be moving on that in the next little bit."