---
CDC Investigating Salmonella Outbreak Linked To Wild Songbirds
As epidemiologists chide Americans for abandoning their fight against the coronavirus with new cases on the rise, and a dangerous new variant from Brazil making headway in several states, the CDC on Sunday issued a warning about an outbreak of a different kind: wild songbirds have caused an outbreak of salmonella in the Pacific Northwest.
Health authorities have identified 19 cases nationwide, including three in California, six in Washington and five in Oregon, and they're expanding their investigation to focus on a handful of states where they fear wild finches that have been dying from salmonella-causing bacteria might have spread the disease. Other states where the CDC is investigating include Kentucky, Mississippi, New Hampshire, Oklahoma and Tennessee.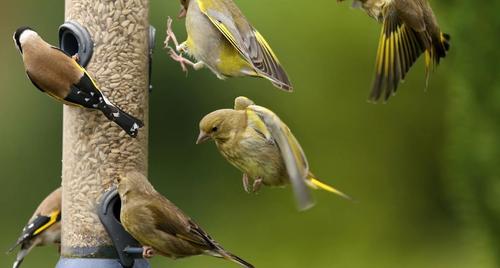 Although it's commonly associated with eating undercooked chicken and raw eggs, salmonella can infect humans in other ways. Nearly all of the cases tied to wild birds were linked to families with bird feeders. The thinking goes that one of the homeowners touched an infected dead bird, or contracted the virus while cleaning a bird feeder where an infected bird had made contact. The bacteria can then spread if the individual then touches their face or mouth.
Of the 13 people interviewed as part of the investigation, nine said they owned a bird feeder. Two others reported that they had come into contact with a sick or dead wild bird.
No deaths have been reported, but 8 people have been hospitalized due to the outbreak. Patients have ranged from 2 months to 89 years old, with 16 years being the median age.
However, officials believe the number of cases in the outbreak is "likely much higher than the number reported because many people recover without medical care and are not tested for Salmonella," according to a statement on the CDC's website. "In addition, recent illnesses may not yet be reported as it usually takes 2 to 4 weeks to determine if a sick person is part of an outbreak."
The outbreak may have started months ago, according to the Associated Press, which reported that California's Department of Fish and Wildlife was inundated with calls back in December about a rash of dead of dying finches at bird feeders across the state.
For those who haven't encountered salmonella, the symptoms can show up between six hours and six days following exposure to the bacteria, and they can include: bloody or prolonged diarrhea, a fever higher than 102 degrees, excessive vomiting and signs of dehydration. The infection typically lasts four days to a week, and people usually recover without treatment. But patients with weakened immune systems, or who are under the age of 5 (or older than 65) are at particularly high risk.