---
Former Head Of Chinese Financial Giant Sentenced To Death
As CNBC runs interference on behalf of the CCP, with host David Faber insisting that Jack Ma isn't "missing", but rather "laying low"...
Jack Ma is not missing. He is laying low. — @davidfaber reporting on CNBC now.

— Jay Yarow (@jyarow) January 5, 2021
...China's courts have just offered up the latest example of just how little the Party cares about preserving human dignity and life. In keeping with China's heavy handed punishments against public corruption, a former chairman of one of the country's top 4 state-controlled asset managers was sentenced to death on Tuesday over allegations he accepted 1.8BN yuan (roughly $277M).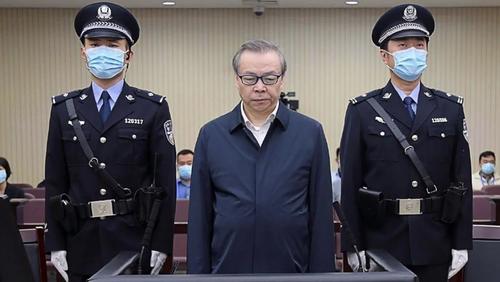 Lai Xiaomin
The official's name is Lai Xiaomin, and he is the former president of China Huarong Asset Management, one of the most recognizable financial firms in the country. Authorities allege that over a decade (between 2008 and 2018) some 1.79 billion yuan was siphoned out of the company by Lai and others with whom he colluded.
The 58-year-old former local party chairman and PBOC supervisor was sentenced by the Tianjin No 2 Intermediate People's Court after he confessed to a range of charges including taking bribes, embezzlement, corruption and - get this - bigamy, according to Chinese newswire Xinhua.
In addition to his death sentence, the court said all his assets would be seized by the state.
Lai served as chairman of Huarong until he was arrested in 2018 as an investigation into his alleged embezzlement and self-dealing ramped up.
Though the timing (especially considering what's going on with Ma) is certainly curious, the harsh sentence isn't exactly a surprise. Xiaomin, a former member of the Communist Party, gave a thorough televised confession on state broadcaster CCTV. Like Xiaomin, Ma is also a CCP member. During the broadcast, footage was aired of cash-stuffed safes and cabinets in a Beijing apartment allegedly belonging to him.
China has a long history of 'disappearing' officials who run afoul of the party. Lai isn't the only senior Party official to be felled by bribery charges: Back in 2019, the head of Interpol was "disappeared" by the CCP before resurfacing in a Chinese court where he also faced bribery charges.
Remember when Meng Hongwei (former head of Interpol) went missing and ultimately was stripped of his "party" affiliation and put in jail for over a decade. The Chinese Communist government said "Meng Hongwei has no party principles..." He hasn't been "seen" since his abduction. https://t.co/ZefMhHmLN1

— 🇺🇸Kyle Bass🇺🇸 (@Jkylebass) January 5, 2021
Or when HNA founder "fell" to his death off a 2ft wall in Provence, France? Or when Anbang's Wu was grabbed and sentenced to 18 yrs in prison for fraud? Jack Ma's days of "freedom" are now gone. @davidfaber , it's hard to actually believe "sources" in China. #China @JackMa #gone

— 🇺🇸Kyle Bass🇺🇸 (@Jkylebass) January 5, 2021
During his TV confession, Xiaomin said he didn't spend even one single penny of the stolen money, and would instead be giving it all back (somehow, we suspect this bit might verge into fabrication).
The court statement highlighted the timing of Lai's crimes, most of which it said were committed after the 2012 Communist Party congress – when Xi Jinping took power and started an unprecedented crackdown on corruption. Lai had shown "no regard for the law and was extremely greedy", the court statement said.

"Most of his crimes were committed after the 18th congress and [he] was one of those typical cases [that] show no restraint, no desire to stop and continue to run the opposite course [against party orders]," it said.
Prosecutors peppered their argument with myriad lurid details. According to the state's evidence, Xiaomin referred to the apartment where he kept the money as the "supermarket", which he visited regularly to deposit cash. The court labeled the size of the bribes "extremely large", and insisted that the magnitude of the theft required the harshest punishment possible.
He initially pleaded guilty to the charges in August.