---
Congress Prepares To Investigate COVID-19 Vaccines
Authored by Zachary Stieber via The Epoch Times (emphasis ours),
Members of Congress are preparing to probe COVID-19 vaccine development and other issues related to the shots.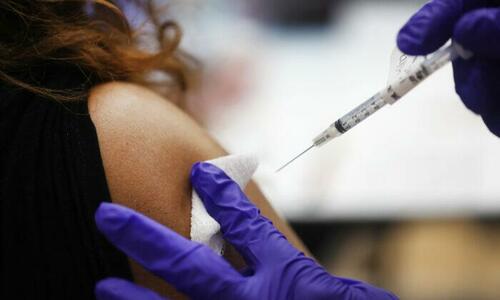 The Select Subcommittee on the Coronavirus Pandemic is planning to investigate how possible side effects are being studied, the regulatory process of authorizing and approving the vaccines, and why the vaccines were mandated, members told The Epoch Times.
One goal of the committee is making sure the United States is prepared for future pandemics, "and that includes perfecting our vaccine development," Rep. Mariannette Miller-Meeks (R-Iowa) told The Epoch Times via email. "In order to do so, we must have complete transparency in vaccine research, clinical trials and adverse reactions, and manufacturing."
"I expect our oversight hearings will shed light on the FDA approval process, the potential for side effects, and ultimately the success rate and safety of the vaccine—each of which will help us to navigate future global health emergencies," she added.
Rep. Rich McCormick (R-Ga.), another member, said the panel "will be performing a comprehensive review of how the vaccines were developed, approved, and mandated."
McCormick, a doctor, is concerned about how data on possible side effects has been collected. He also wants to look into how children as young as 6 months old have been encouraged to get a primary series and at least one booster, "given the lack of scientific evidence for a benefit, coupled with real concerns about possible harm for an otherwise immune person."
Children are at the least risk from COVID-19. Vaccines were cleared for kids for prevention of symptomatic COVID-19 based on immunogenicity data, or antibody production. Real-world data shows the vaccines provide transient protection against symptomatic infection. Children and others who have recovered from COVID-19 enjoy shielding against the disease, especially against severe illness, and some research has found that after recovery, people have a higher risk of vaccine side effects.
"People do deserve to know about the long term safety and efficacy of the vaccine. A lot of the things that were told to us, like 'they prevent transmission' and all of that, was not true. So people will have concerns and those concerns should be addressed," Rep. Nicole Malliotakis (R-N.Y.), another member of the subcommittee, told The Epoch Times.
Rep. Debbie Lesko (R-Ariz.) noted that the U.S. Food and Drug Administration (FDA), which clears vaccines, and the Centers for Disease Control and Prevention, which decides whether to recommend vaccines, increasingly bypassed their expert advisory panels during the pandemic after the panels pushed back against decisions like advocating for boosters before a review of trial data was complete. Two top FDA officials, including one who wanted more time to examine data on Pfizer's vaccine, resigned in 2021.
"We need to know who made the decision to bypass the standard vaccine approval processes," Lesko, a subcommittee member, told The Epoch Times via email.
Lesko said she also hopes the panel will investigate why mandates were imposed and what effects the mandates had.
"The COVID-19 vaccine mandates were a clear abuse of government authority, and we need to know who made the formal decision to implement these mandates. Additionally, I believe we need answers on the data from the COVID-19 clinical trials, given the significant disparity between the trials and real-world effects from these vaccines," Lesko said. "I hope we can get to the bottom of these issues, and I am proud to work with my colleagues to get the long-overdue answers the American people deserve."
Read more here...
Loading...