---
Critical US Study Shows AstraZeneca Jab 79% Effective As Europeans Remain Skeptical
During a hastily organized official safety review last week, Emer Cooke, the head of the EMA, insisted that the benefits of the AstraZeneca vaccine far outweigh its risks. However, when it came time to address the 30 or so cases of sometimes-deadly rare blood clots that prompted dozens of countries to halt the jab, the scientist acknowledged that the cases were genuine, but that the agency "doesn't have enough evidence to establish a definitive link."
As it turns out, the review (which was followed the next day by a mirror WHO review that arrived at virtually all the same conclusions) has done little to bolster confidence in the jab across the Continent. According to Reuters, confidence in the jab has taken "a big hit" across Germany, France and Italy. After finding in late February that Europeans were more skeptical about the AstraZeneca vaccine than competitors from Pfizer and Moderna, YouGov polled 8K people in seven European countries between March 12 and March 18 (a period the coincided with the safety controversy) and found that in France, Germany, Spain and Italy, people were now more likely to see the AstraZeneca vaccine as unsafe than as safe. In France, 61% of respondents now say it's unsafe. In Germany, that number is 55%.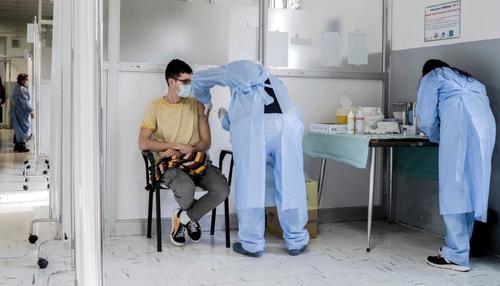 But these polling numbers were overshadowed by an even more important AstraZeneca-related headline: results from a closely watched US trial have just been published. And they appear to confirm that the shot is both "safe" and highly effective. The study's headline number showed the jab was 79% effective at preventing COVID, according to the trial data.
The trial, which was run by scientists from Columbia University and the University of Rochester in collaboration with AstraZeneca, showed the jab is particularly effective at protecting the elderly. Unlike earlier trials, around 20% of the volunteers in this trial were 65+ and the vaccine, administered as two doses, four weeks apart, provided as much protection for the elderly as it did for younger patients.
As one expert quoted in the BBC pointed out, the data should clear the way for the AZ jab to be approved in the US within a month or two, despite this mishugas with the blood clots. 
32,449 participants were spread across trial sites in the US, Peru and Chile. Two-thirds of the participants got the jab, while one-third got a placebo. Amazingly, none of the participants who received the vaccine developed severe cases of the virus, and none were hospitalized. In total, the trial saw 141 cases among all trial participants, but it's not clear how many patients from the placebo group were severely infected or hospitalized.
Notably, scientists specifically looked through the participant data to see if any cases of cerebral venous sinus thrombosis (blood clots in the brain that can result in dangerous bleeding) had emerged. They said they found none.
The jab has already been approved for use in some 70 countries, and thousands of jabs are being given in the UK every day. But the NYT said that being approved by the FDA would help revive the jab's credibility.
In an interview Monday morning, AstraZeneca President Ruud Dobber took to CNBC's "Squawk Box" to tout the trial's safety data, while announcing that AZ intends to file for FDA approval during the first half of April, potentially leading to approval even more quickly than the company had let on.
"It was very pleasing to see that even with a magnifying glass the Data Safety Monitoring Board didn't see any imbalance between the vaccinated group and the placebo group so that gives us a lot of confidence," says @AstraZenecaUS President Ruud Dobber on $AZN vaccine in Europe. pic.twitter.com/WSaTXtZO4M

— Squawk Box (@SquawkCNBC) March 22, 2021
Dobber also revealed that 5 of the placebo group patients developed "severe" cases of COVID, offering some critical context to the trial figure showing the jab was 100% effective against "severe" cases.
AZ's Ruud Dobber joined us just now on @SquawkCNBC, and said they saw 5 cases of severe disease among participants who received placebo in the vaccine trial (0 among those who got vaccine, leading to 100% efficacy finding for severe disease), a detail not shared in press release. https://t.co/Bo3mvlJLZb

— Meg Tirrell (@megtirrell) March 22, 2021
Furthermore, AZ touted the vaccine's "overall safety profile" in its press release announcing the trial data.
The company's shares climbed 1.8% during European trade on the news.
Read the full press release below:
The AstraZeneca US Phase III trial of AZD1222 demonstrated statistically significant vaccine efficacy of 79% at preventing symptomatic COVID-19 and 100% efficacy at preventing severe disease and hospitalisation.
This interim safety and efficacy analysis was based on 32,449 participants accruing 141 symptomatic cases of COVID-19. The trial had a 2:1 randomisation of vaccine to placebo.
Vaccine efficacy was consistent across ethnicity and age. Notably, in participants aged 65 years and over, vaccine efficacy was 80%.
The vaccine was well tolerated, and the independent data safety monitoring board (DSMB) identified no safety concerns related to the vaccine. The DSMB conducted a specific review of thrombotic events, as well as cerebral venous sinus thrombosis (CVST) with the assistance of an independent neurologist. The DSMB found no increased risk of thrombosis or events characterised by thrombosis among the 21,583 participants receiving at least one dose of the vaccine.
The specific search for CVST found no events in this trial.
Ann Falsey, Professor of Medicine, University of Rochester School of Medicine, US, and co-lead Principal Investigator for the trial, said: "These findings reconfirm previous results observed in AZD1222 trials across all adult populations but it's exciting to see similar efficacy results in people over 65 for the first time. This analysis validates the AstraZeneca COVID-19 vaccine as a much-needed additional vaccination option, offering confidence that adults of all ages can benefit from protection against the virus."
Mene Pangalos, Executive Vice President, BioPharmaceuticals R&D, said: "These results add to the growing body of evidence that shows this vaccine is well tolerated and highly effective against all severities of COVID-19 and across all age groups. We are confident this vaccine can play an important role in protecting millions of people worldwide against this lethal virus. We are preparing to submit these findings to the US Food and Drug Administration and for the rollout of millions of doses across America should the vaccine be granted US Emergency Use Authorization."
AstraZeneca will continue to analyse the data and prepare for the primary analysis to be submitted to the US Food and Drug Administration for Emergency Use Authorization in the coming weeks. In parallel, the primary analysis will be submitted for publication in a peer-reviewed journal.
Amongst participants in the interim analysis, approximately 79% were white/Caucasian, 8% black/African American, 4% native American and 4% Asian, and 22% of participants were Hispanic.
Approximately 20% of participants were 65 years and over, and approximately 60% had co-morbidities associated with an increased risk for progression of severe COVID-19, such as diabetes, severe obesity or cardiac disease.
This AstraZeneca-led US Phase III trial included two doses administered at a four week interval. Previous trials have shown that an extended interval of up to 12 weeks demonstrated greater efficacy, which was also supported by immunogenicity data. This evidence suggests administration of the second dose with an interval longer than four weeks could further increase efficacy and accelerates the number of people who can receive their first dose.
The vaccine can be stored, transported and handled at normal refrigerated conditions (2-8 degrees Celsius or 36-46 degrees Fahrenheit) for at least six months and administered without the need for preparation within existing healthcare settings.
AstraZeneca continues to engage with governments, multilateral organisations and collaborators around the world to ensure broad and equitable access to the vaccine at no profit for the duration of the pandemic.
D8110C000011
The US Phase III trial, called D8110C00001, was led by AstraZeneca and funded by the Biomedical Advanced Research and Development Authority (BARDA), part of the office of the Assistant Secretary for Preparedness and Response (ASPR) at the US Department of Health and Human Services (HHS) in collaboration with the Department of Defense Joint Program Executive Office for Chemical, Biological, Radiological and Nuclear Defense (JPEO-CBRND) and the Army Contracting Command, and the National Institute of Allergy and Infectious Diseases (NIAID), part of the US National Institutes of Health. The NIAID-supported COVID-19 Prevention Network (CoVPN) participated in the trial.
D8110C00001 is a Phase III randomised, double-blind, placebo-controlled multicentre study assessing the safety, efficacy, and immunogenicity of AZD1222 compared to placebo for the prevention of COVID-19, in 32,449 participants across 88 trial centres in the US, Peru and Chile. Trial participants aged 18 years or over who are healthy or have medically stable chronic diseases and are at increased risk for being exposed to the SARS-CoV-2 virus and COVID-19 were randomised in a 2:1 ratio to receive two intramuscular doses of either 5 x1010 viral particles of AZD1222 or saline placebo four weeks apart.
AZD1222 AZD1222
was co-invented by the University of Oxford and its spin-out company, Vaccitech. It uses a replication-deficient chimpanzee viral vector based on a weakened version of a common cold virus (adenovirus) that causes infections in chimpanzees and contains the genetic material of the SARS-CoV-2 virus spike protein. After vaccination, the surface spike protein is produced, priming the immune system to attack the SARS-CoV-2 virus if it later infects the body.
In May 2020, AstraZeneca received support of more than $1bn from BARDA for the development, production and delivery of the vaccine under an agreement with the US Department of Defense's Joint Program Executive Office for Chemical, Biological, Radiological and Nuclear Defense. The Phase III D8110C00001 trial is part of this funding agreement.
The vaccine has been granted a conditional marketing authorisation or emergency use in more than 70 countries across six continents, and with the Emergency Use Listing granted by the World Health Organization this accelerates the pathway to access in up to 142 countries through the COVAX Facility.
BARDA, ASPR, HHS
HHS works to enhance and protect the health and well-being of all Americans, providing for effective health and human services and fostering advances in medicine, public health, and social services. The mission of ASPR is to save lives and protect Americans from 21st century health security threats. Within ASPR, BARDA invests in the innovation, advanced research and development, acquisition, and manufacturing of medical countermeasures – vaccines, drugs, therapeutics, diagnostic tools, and non-pharmaceutical products needed to combat health security threats.
The AstraZeneca vaccine candidate is one of six BARDA is supporting in development and manufacturing, and the third BARDA-supported SARS-COVD-2 vaccine supported to successfully complete a large Phase III trial. To learn more about BARDA's support for the COVID-19 pandemic response, visit medicalcountermeasures.gov.
JPEO-CBRND
As part of the Department of Defense, JPEO-CBRND protects the Joint Force by providing medical countermeasures and defense equipment against chemical, biological, radiological and nuclear (CBRN) threats. JPEO-CBRND's goal is to enable the Joint Force to fight and win unencumbered by a CBRN environment. JPEO-CBRND facilitates the rapid response, advanced development, manufacturing and acquisition of medical solutions, such as vaccines, therapeutics, and diagnostics, to combat CBRN and emerging threats such as COVID-19. To learn more about JPEO-CBRND's COVID-19 response, visit https://www.jpeocbrnd.osd.mil/coronavirus.
NIAID and the CoVPN
The CoVPN was formed by the NIAID at the US National Institutes of Health, part of the US Department of Health and Human Services, to respond to the global pandemic. Through the CoVPN, NIAID is leveraging the infectious disease and community engagement expertise of its existing research networks and global partners to address the pressing need for vaccines and antibodies against the SARS-CoV-2 virus. CoVPN will work to develop and conduct studies to ensure rapid and thorough evaluation of vaccines and antibodies for the prevention of COVID-19.