---
Cuomo Unveils Vaccine-Segregated Access To Yankees/Mets Games
New York and its neighbors New Jersey and Connecticut announced Monday that they would lift most of their pandemic restrictions, allowing some sort of normalcy to return after more than a year of restrictions that limited capacity at restaurants and bars, sports and entertainment venues, and cultural and religious gatherings. Now in a bid to get everyone vaccinated, New York State Governor Andrew Cuomo is offering free vaccines at baseball games. 
Cuomo, who announced Wednesday at a press conference that his administration is teaming up with two Major League Baseball teams, including New York Yankees and New York Mets, to vaccinate fans at games. In return, the fans will receive a "free ticket." 
The @Mets, the @Yankees & @HealthNYGov are teaming up so that when you go to a game you can can get a vaccine right at the stadium.

When you do, you'll get a free ticket.

So if you love baseball (& protecting your community) — go to a game, get vaccinated & get a free ticket!

— Andrew Cuomo (@NYGovCuomo) May 5, 2021
Then the governor also noted a new segregation policy: 
Starting May 19, full capacity seating at Yankee Stadium & Citi Field will be available for fully vaccinated people.

For unvaccinated, the capacity will be 33% to comply with CDC social distancing rules. Masks will be required for all fans.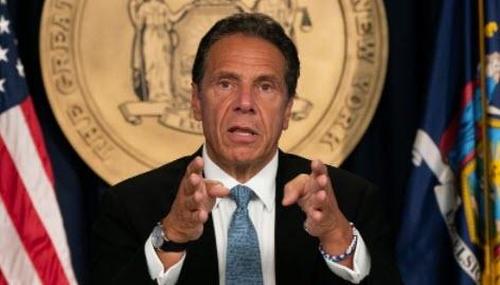 "For baseball reopening May 19, two different categories, not Yankees, Mets [but] vaccinated, not vaccinated. Vaccinated people, normal capacity, normal seating for people who are vaccinated. We ask them to wear masks. For unvaccinated people, the six foot distancing applies with masks," said Cuomo in his press conference.
Which somehow made us think of this...
Cuomo's decision raised a few questions for fans...
So I, a vaccinated adult with an unvaccinated (ineligible) 4 year old who begs me to go to a ballgame have to sit In the unvaccinated section?

— PeterE (@p3temangus) May 5, 2021
Bringing back #segregation wow!! So none vaccinated people are seated in another section, that's discrimination! Are they going to need to wear yellow starts too? #racist #blm #Discrimination #communist

— Deuce Bigalow (@dbig_below) May 5, 2021
Cuomo has been trying to win back the hearts of the people after allegations of harassment, a toxic work environment, the loss of credibility around COVID-19 nursing home data. 
As a big distraction, the governor legalized recreational marijuana in late March. Now he's giving away free baseball tickets at MLB stadiums for those who get vaccinated.