---
Europe Could Soon Enter COVID-19 'Ceasefire', Long Period Of Tranquility: WHO Europe Director
Authored by Katabella Roberts via The Epoch Times,
The World Health Organization's (WHO) Europe director said on Thursday that the continent could soon enter a "cease-fire" and a "long period of tranquillity" in the CCP (Chinese Communist Party) virus pandemic.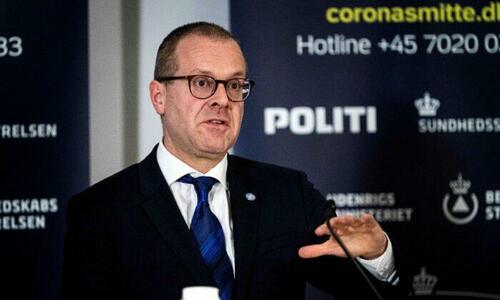 Dr. Hans Kluge cited increased immunity to Omicron either through vaccines or natural immunity, a "favorable seasonality pause" as Europe nears the end of winter, and the less severe nature of the Omicron variant as reasons for the more tranquil period.
Speaking to reporters from Geneva, he said:
"This period of higher protection should be seen as a 'ceasefire' that could bring us enduring peace."

"This context, that we have not experienced so far in this pandemic, leaves us with the possibility for a long period of tranquility and a much higher level of population defense against any resurgence in transmission, even with a more virulent variant."
Despite the more optimistic view, Kluge warned European nations to continue with their vaccination and boosting campaigns to preserve immunity and to maintain surveillance of strains to detect new variants of the CCP virus, which causes COVID-19.
He also urged European governments to continue promoting "self-protecting behavior and individual responsibility" such as social distancing and hand sanitizing to limit unnecessary socio-economic impacts of the virus.
If new variants of COVID were to emerge, Kluge said he believes that it is possible for European governments to respond in a manner that does not require the kind of "disruptive measures" that were needed before.
However, Kluge also warned that this was "not to say that (the pandemic) is now all over," but "there is a singular opportunity to take control of the transmission."
The WHO Europe director's comments come as the continent recorded 12 million new COVID-19 cases in the past week, the highest weekly number of cases since the start of the pandemic.
Those figures are being largely driven by the highly transmissible Omicron variant, which is sweeping from west to east, Kluge said, adding that 30 percent of all COVID-19 cases since the pandemic began have been reported this year alone.
The EU health agency, the European Center for Disease Prevention and Control (ECDC) says that the overall level of risk to public health in Europe is "very high."
But while hospitalizations continue to rise, particularly in those countries with lower vaccination rates, the less severe nature of Omicron means that officials have not seen a significant spike in those needing critical hospital care.
As such, multiple countries across Europe have started to relax COVID-19 rules and restrictions in recent weeks as they learn to live with the virus.
At the end of January, England lifted multiple restrictions that were put in place in December after Omicron cases were found in the country.
Brits are no longer required to wear masks in enclosed places and the NHS COVID pass which was previously required to enter nightclubs and large events is no longer needed, although organizations can still choose to use the vaccine passport if they wish to do so.
Elsewhere in the Netherlands, which has been under a hard lockdown since mid-December, the Dutch government last month announced a lifting of restrictions on Jan. 26, to allow the hospitality industry to again welcome back customers.
The Danish government has also decided that "COVID-19 should no longer be categorized as a socially critical disease after 31 January 2022" and has lifted virtually all of the restrictions previously put in place.
France last week eased some restrictions for vaccinated residents but unvaccinated people who are over 16 are barred from domestic flights and interregional trains, restaurants and bars, sports events, cinemas, theaters, and other venues.
On Thursday, Sweden's government announced it will end all COVID-19 restrictions in place as of Feb. 9.
"It is time to open up Sweden again," Prime Minister Magdalena Andersson said during a press briefing. "While the pandemic is not over, it has entered an entirely new phase."
Loading...