---
Fauci Talks Fourth Dose, Eventually Ending Restrictions In US
White House Covid-19 adviser Anthony Fauci says that Americans may be looking at a fourth jab in order to be fully vaccinated depending on things such as "age, as well as underlying conditions."
While speaking at a Wednesday CDC briefing, Fauci said that the decision over a fourth dose would depend on data collected after the third dose.
"You measure laboratory phenomenon, but you measure the real-world data on the efficacy in preventing, for example, hospital visits as well as hospitalizations," he said. "And I believe that you're going to be hearing data about that as the data become available."
DR. FAUCI: "There may be the need for yet again another boost, in this case a fourth dose boost for an individual receiving the MRNA..." pic.twitter.com/EdS53dpPRW

— Breaking911 (@Breaking911) February 9, 2022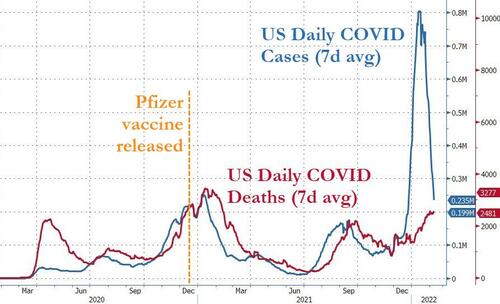 Meanwhile, Fauci told the Financial Times that there's no way to fully eliminate Covid-19, but that the United States is past the "full-blown" Covid-19 pandemic phase.
"We are looking at a time when we have enough people vaccinated and enough people with protection from previous infection that the COVID restrictions will soon be a thing of the past," he said.
As the Epoch Times' Jack Phillips notes (emphasis ours):
Fauci's reference to prior infection, known as "natural immunity," is notable because, for months, Fauci and other top federal health officials have solely pushed COVID-19 vaccines as the way to defeat the pandemic. Last year, during interviews with the press, Fauci would often downplay natural immunity in favor of vaccines.
In the interview Tuesday, Fauci also suggested that booster shots may not be needed for all Americans.
"It will depend on who you are," he said. "But if you are a normal, healthy 30-year-old person with no underlying conditions, you might need a booster only every four or five years."
Meanwhile, in the near future, the government response to the pandemic will be primarily handled at the local level with little federal involvement. He didn't say specifically when COVID-19 restrictions such as mask or vaccine mandates would end but could be done away with "soon," according to the Financial Times.
"As we get out of the full-blown pandemic phase of COVID-19," Fauci told the paper. "Which we are certainly heading out of, these decisions will increasingly be made on a local level rather than centrally decided or mandated. There will also be more people making their own decisions on how they want to deal with the virus."
His remarks come as several Democrat-led states such as California, New Jersey, Delaware, and New York have moved to rescind mask mandates statewide, although some municipalities have opted to keep them. Some federal officials, including Centers for Disease Control and Prevention (CDC) Director Rochelle Walensky, also still favor masking in certain settings.
"We continue to endorse universal masking in schools," Walensky told Reuters this week, adding that federal officials will "continue to recommend masking in areas of high and substantial transmission—that is essentially everywhere in the country in public indoor settings."
A recent spike in COVID-19 cases fueled by the Omicron variant has dropped across most of the United States in recent days. Hospitalizations from the CCP virus have also fallen significantly over the past two weeks or so, according to federal data.
The moves to simultaneously ease rhetoric on COVID-19 and end certain restrictions come just months before the 2022 midterm elections as Democrats have thin majorities in both houses of Congress. A Jan. 31 Monmouth poll found that at least 70 percent of Americans agree that "it's time we accept that COVID is here to stay."