---
Germany Orders Most Restrictive COVID Lockdown Yet Over Easter Weekend
We noted yesterday that Chancellor Angela Merkel had succeeded in persuading the leaders of Germany's 16 states to agree to another extension of the federal lockdown. And while initial reports about Merkel's proposal noted that Germans would receive a reprieve allowing them to spend the Easter holiday with family, apparently, the government appears to have changed its mind again and decided to tighten restrictions to the toughest point yet during a brief stretch coinciding with the Easter holiday weekend to try to defuse a "third wave" of Covid-19 infections fueled by faster-spreading mutations.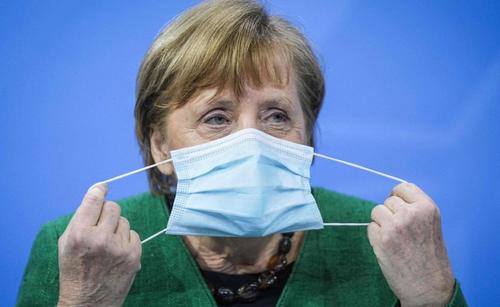 All but the most important services will be closed during the lockdown period, according to RT. Noting that the country is in a "race" to combat the pandemic, Merkel outlined the nationwide shutdown during a news conference early on Tuesday, saying that not only will existing restrictions be extended to April 18, but that most businesses will be made to close their doors for at least five days beginning on the first of the month (just before the April 4 holiday) in what appears to be the most restrictive lockdown in Germany since the start of the pandemic.
During the five-day lockdown period, only shops that sell food, as well as coronavirus testing and vaccination sites, will remain open, The draconian policy will apply across Germany, even in areas where cases haven't rebounded as intensely. Merkel said there should be "quiet days" and reduced social contacts in the time between April 1 and 5.
"We are now in a very serious situation," the chancellor told reporters after a contentious marathon meeting with the leaders of the German states - a meeting that reportedly lasted for 12 hours.
Analysts blamed Merkel's strict lockdown extension for a selloff in European stocks and the euro that unfurled during the first half of the European trading day on Tuesday. The notion of lockdowns extending beyond March raises the risk of delaying the 2Q rebound. Despite the stumble, however, analysts said the case for a rebound remains intact.
In addition to the restrictive business closures, Germans will be prohibited from holding private gatherings of more than five adults from two different households, while all travel abroad will be strongly discouraged. Even churches have been asked to hold only virtual services during that time, even on Easter itself.
Though some areas of Germany have slowly started to reopen, Merkel and the regional leaders agreed that anywhere that weekly cases per 100,000 residents rise above 100, the reopening efforts must be reversed. The shutdown policies have been controversial for many Germans, prompting a wave of heated demonstrations in several cities, the last of which erupted in Kassel over the weekend and led to clashes with police.
While other European governments rolled back lockdown measures as cases plunged earlier this year, Germany has been in some form of partial lockdown for almost a full year. Several states even announced closures before any nationwide measures were implemented last March.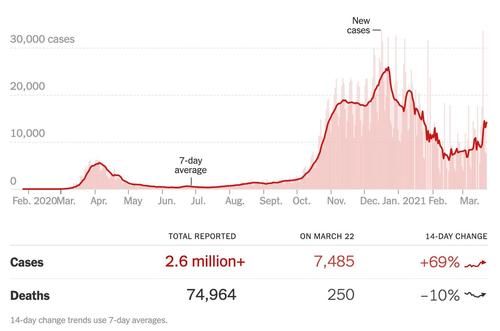 Source: NYT
To date, Germany's RKI has confirmed 2.6MM coronavirus infections and nearly 75K deaths. Around 7,700 new cases were recorded on Monday alone, roughly double the number from the week before.