---
Hong Kong Halts Pfizer Vaccinations After Finding "More Than 50" Defects Like Cracked Vials
Pfizer and Moderna have been largely quiet since competitor AstraZeneca became embroiled in the latest, and biggest, safety scandal to rock public confidence in the company's COVID-19 jab, which had been intended to be the workhorse of the WHO's global vaccination campaign, since it's cheap and relatively easy to transport and store.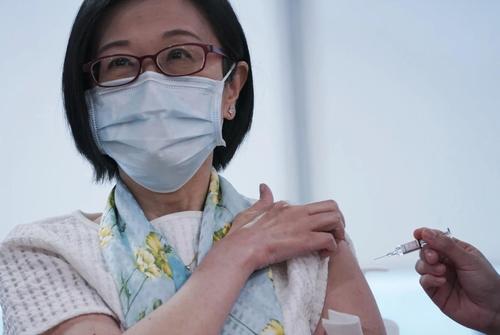 But Pfizer, at least, might soon have to deal with a problem of its own. Because the South China Morning Post reported Wednesday that they had suspended vaccinations using the Pfizer-BioNTech after local frontline staff discovered more than 50 instances of defective packaging, like cracked and leaking vials.
Here's more from the SCMP.
The city government on Wednesday announced the cancellation of bookings at all 21 community vaccination centres providing the German-made jab "until further notice". The suspension of the scheme came as Hong Kong recorded 10 new coronavirus cases on Wednesday. Director of Health Dr Constance Chan Hon-yee told a press conference that staff working on Hong Kong's Covid-19 vaccination programme had previously reported eight incidents of cracked BioNTech vials and 22 air pressure issues resulting in leaks, all of which she said had been relayed to the manufacturer.

A further 16 reports of vial seals being loose or out of position were made, as well as 11 relating to the identification of stains or marks on the exterior of the glass containers.
The broken and otherwise compromised vials were traced back to batch 210102, according to Hong Kong authorities. Out of the 585K-dose batch – the set of doses triggering the suspension until further notice - about a quarter, or 150K, have already been consumed. Hong Kong has at least one other batch available; supply of batch 210104 had not yet been tapped and all of its 758K doses were in storage.
SCMP said local officials found "more than 50" examples of packaging defects in the batch.
"Because of this situation, we made such reports to Fosun, the agent [of the vaccine] in Hong Kong and requested them to follow up with the manufacturer," Chan said.

"The manufacturer, after receiving our reports, this morning notified Hong Kong in written form that they could not see any problems related to the safety of batch 210102. But they need to conduct a thorough investigation. For the sake of caution, they requested Hong Kong to suspend the use of this batch."
BioNTech has launched its own investigation into what led to the defects, but said at this point there's no reason to believe there is any safety risk posed to patients who have received the vaccines.  The probe will focus on how the batch was handled at the vaccination centers, as well as at different stops along the supply chain.
In a statement, Fosun Pharma, which is responsible for distributing the jab in Hong Kong, said the issues were reported by BioNTech on Tuesday night, and the company then notified Hong Kong and Macau of the issues, and in the interests of safety had decided to halt delivery while the issue was being investigated.
Echoing her European peers, Secretary for Food and Health Sophia Chan Siu-chee told the press that the suspension of Pfizer vaccinations was a "precautionary measure." Unfortunately for residents who had vaccination appointments, many arrived at vaccine centers Wednesday morning to find the centers were closed. Some patients were so angry they refused to leave for a time. However, some of the centers had already injected more patients with doses from the batch on Wednesday.
Dr. Luk Che-chung, head of the Hong Kong East Cluster of public hospitals, said the vaccination center in Sai Wan Ho had injected 53 people by the time they received the suspension order. One source told SCMP that the center on Hiu Kwong Street, Kwun Tong, had given the doses to more than 140 people before they were told to stop. Macau, meanwhile, has confirmed that its residents won't be receiving jabs from the suspect batch.
University of Hong Kong microbiologist, Professor Ho Pak-leung, said there was no need for the public to be too concerned, since the packaging issues likely wouldn't lead to health complications. "This incident only involves packaging defects instead of safety and quality issues. I believe that the Hong Kong and Macau governments are only taking preventive measures to suspend vaccination."
But with all the manufacturing issues at vaccine factories in Europe and the West, which have (in part) inspired Europe to halt exports of domestically-produced vaccines, losing a whole batch could have a substantial impact on supplies of the jabs in Hong Kong, which has been vaccinating only about 10K people per day.
It's also a reminder of just how fragile the global supply chain can be, especially for vaccines like the Pfizer jab which must be shipped and stored at subzero temperatures, an extremely complicated feat.