---
Hong Kong Will Send More COVID Patients To Quarantine Camp Amid Record Surge In Cases
COVID outbreaks may be waning in the US, UK and a number of other countries - including far-flung Australia, where Prime Minister Scott Morrison just unveiled plans to reopen the country to tourists on Monday as that country's omicron wave has diminished - but in Hong Kong, mainland China, and a handful of other countries in the Asia-Pacific region, case numbers are rising at an alarming rate, much to the consternation of local health officials.
On Monday, Hong Kong reported 614 new COVID cases, the largest daily tally since the start of the pandemic two years ago. The figure was double the number of cases reported the day prior, prompting local health officials to declare that the "fifth wave" of the pandemic has already begun, and that the city would soon be dealing with 1,000 new cases per day, according to Health minister Sophia Chan Siu-chee. 219 of the new cases were deemed asymptomatic or untraceable, and seven imported.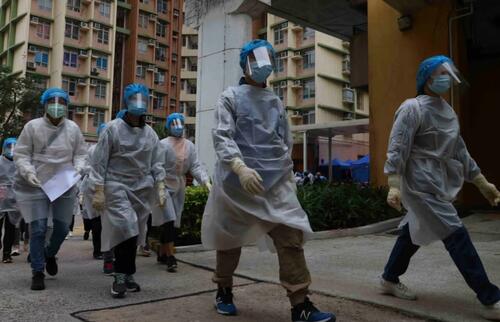 The prospect of exponential growth of the virus has prompted Hong Kong to impose even tougher quarantine restrictions, including sending both close contacts of the infected, and those who tested positive but exhibit mild symptoms, to a quarantine camp similar to the barbed-wire-enclosed camps opened in Australia where some infected people have been forced to sit out their illness (and a trio of persons made headlines around the world when they escaped late last year). The camp is already housing patients who are deemed symptomatic and at high risk of spreading the virus. Authorities will also consider adopting even tougher social distancing restrictions.
This facility is located at the Penny's Bay facility on Lantau Island.
Officials have laid out plans to start sending more patients who meet the new criteria there on Tuesday, according to the SCMP. Although some infected patients will be allowed to quarantine at home if their digs are deemed "suitable" by the HK government (which, remember, is now under the untrammeled control of Beijing):
Warning that the Omicron-fuelled fifth wave of the pandemic was spiralling out of control, officials laid out plans to begin sending infected people to Penny's Bay from Tuesday and allow home quarantine for close contacts whose flats were approved as suitable for isolation.

The city's leader will also meet her top advisers on Tuesday to discuss further tightening social-distancing measures to address the infection surge, partly blamed on Lunar New Year celebratory gatherings. Tougher steps could entail expanding the use of the vaccine pass to cover shopping malls and public transport.
Authorities blamed family gatherings during the Chinese Lunar New Year for fueling the surge in infections. There have been a few notable clusters of cases in the city so far, illustrated below: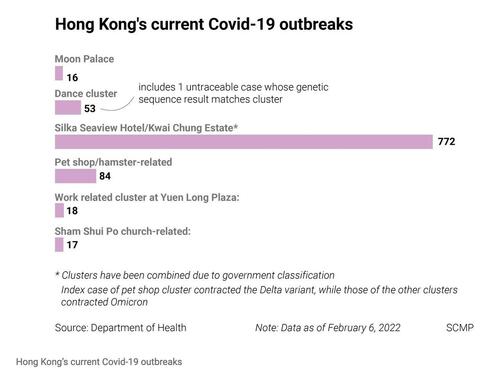 As of Monday, COVID patients were occupying 1,146 of the 3,416 units available in the facility on Penny's Bay. Meanwhile, more contacts of the infected will be required to quarantine at home for 14 days if their homes are deemed "suitable."
With fewer spaces available, close contacts of patients and the family members of those secondary contacts can isolate at home starting from Tuesday, for 14 days and four days, respectively, provided their living arrangements proved suitable.

"Our colleagues will assess whether the household is suitable for home isolation, such as whether they need to share rooms or facilities with their family members," said Centre for Health Protection controller Edwin Tsui Lok-kin.
Authorities in Hong Kong have imposed more draconian restrictions as of late, including locking down an entire housing complex after roughly 50 cases were found there. The city has also imposed a requirement for all Hong Kongers to be innoculated. If they aren't fully vaccinated before Feb. 24, they will not be allowed to enter crowded public places, which will now require proof of inoculation to enter.