---
Infected Indian Foreign Minister Disrupts G-7 Summit In London
As India's brutal second COVID-19 wave spills over its borders and across the region, a team of forecasters at the Indian Institute of Science in Bangalore has warned - using a mathematical model - that deaths could double as soon as next week, India's foreign minister is now self-isolating after two delegates to recent G-7 meetings in London tested positive to the virus, Bloomberg reports.
India's External Affairs Minister Subrahmanyam Jaishankar was reportedly informed that he had been exposed to somebody infected with the virus on Wednesday, one day after Jaishankar held a socially distanced in-person meeting with UK home secretary Priti Patel on Tuesday, where the two agreed on a "migration and mobility deal' which will provide a "bespoke route" for young professionals from India looking to live and work in the UK. Jaishankar also met Antony Blinken, the US secretary of state, earlier this week.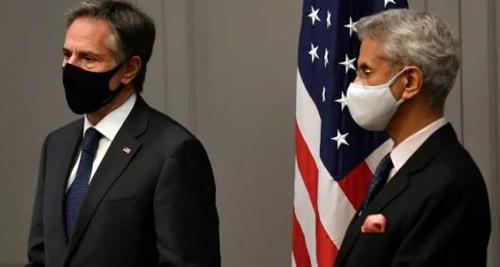 Subrahmanyam Jaishankar meeting with US Secretary of State Antony Blinken
As one twitter wit pointed out, the incident is like a metaphor for India's current situation, as more public-health experts warn that India's worsening outbreak risks reviving outbreaks in the US and Europe. Many countries have moved to cut off all non-essential travel between India for exactly this reason.
Okay this is quite a metaphor

*INDIA MINISTER AT G7 TO SELF-ISOLATE ON POSSIBLE COVID EXPOSURE

— George Pearkes (@pearkes) May 5, 2021
As Bloomberg points out, the blowback could turn into an embarrassment for the US and the Biden Administration. The announcement could swiftly shut down a high-profile event that is supposed to mark the G-7 debut of Secretary of State Antony Blinken. The two-day event is being hosted by the UK.
Fortunately, according to the FT, members of the Indian delegation hadn't yet attended G7 meetings in Lancaster House, London, where talks took place on Tuesday and continued on Wednesday.
The meetings, the first face-to-face gathering of the group's foreign ministers in more than two years, were set to include representatives from Australia and India in some of the sessions alongside the G-7 advanced economies as the UK (and the US) seeks to strengthen its ties within the Indo-Pacific region.
British PM Boris Johnson defended the decision to hold the G7 meetings in person, arguing that it was important for the government "to try to continue as much business" as possible despite the pandemic. 
"We have a very important relationship with India and with our G7 partners", he said while campaigning ahead of Thursday's local elections. "As I understand it, what has happened is the individuals concerned are all isolating now," he said.
BoJo added that he would have a meeting with Jaishankar on Wednesday afternoon via Zoom.
Officials believe that, based on discussions with Public Health England, those who attended meetings with Jaishankar have a low risk of contracting the virus. Still, fears about possible spread are already disrupting the summit, and could force delegates to attend meetings remotely from their hotel rooms.

Meanwhile, India reported a record 3,780 deaths on Wednesday for an overall toll of 226,188, along with 382,315 new cases, taking its outbreak past 20.6 million infections.