---
"It's Like Hand To Hand Combat" - Doctors Mull Strategies For Boosting Vaccine Demand Amid Fears 'Herd Immunity' Now Out Of Reach
Now that President Biden has reached his goal of 200M COVID-19 jabs administered across the US, Americans should expect fewer updates about the vaccination effort. Why? Because from here on out, the pace of new vaccinations is expected to slow substantially now that the vaccine rollout has hit a critical inflection point. As former FDA Director (and current Pfizer board member) Dr. Scott Gottlieb predicted a few weeks back, the US will "struggle" to reach herd immunity.
Since then, mass vaccination centers have been shut down in states across the US. Even in wealthy, deep-blue states like Connecticut, local officials are warning that demand for the new jabs is waning. In many states, unused vaccines are beginning to pile up, leaving thousands of jabs to spoil, while more than 100 countries have yet to receive even a single jab.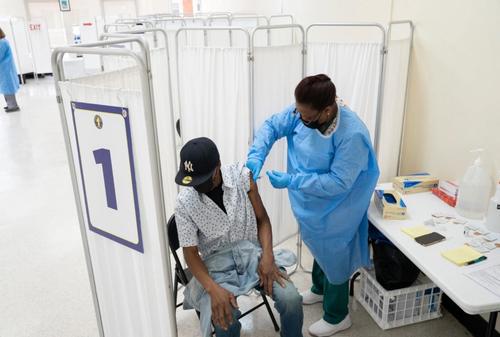 In CT, the New Haven Register carried a warning from a top doctor from the Yale University health-care system. Dr. Thomas Balcezak, the chief clinical officer at Yale-New Haven, warned that CT might not reach herd immunity.
He spoke about the slackening in demand:  "Right around 55 percent of the state vaccinated: half is there and half has not yet been vaccinated."
"A slack in that demand tells us the second half of the state isn't seeking vaccinations with the same ferocity as the first half did. I hope that trend changes," Balcezak said.
And that's a problem, Dr. Balcezak added, because the expectations for herd immunity require between 70% and 80% of the adult population to be vaccinated. And if that level isn't achieved quickly enough, mutant strains of the virus might be able to get the upper hand, as more vaccinated individuals fall ill despite being - in theory - immune to "severe" effects of the illness.
Over the weekend, the New York Times published a story warning that the federal government is already considering new tactics to encourage more people to accept the vaccines, including allowing people to receive the jabs directly from their own doctors. Unfortunately, for these new strategies to be implemented country-wide, a new logistical obstacle will need to be overcome: vaccines will need to be shipped in much smaller batches.
"If you think of this as a war," said Michael Carney, the senior vice president for emerging issues at the U.S. Chamber of Commerce Foundation, "we're about to enter the hand-to-hand combat phase of the war."
However Pfizer, Moderna and J&J - which just received permission to continue doling out the shots despite concerns about rare and deadly blood clots - decide to tackle these problems, it has become clear that the timeline for "herd immunity" sketched out below looks almost impossibly optimistic.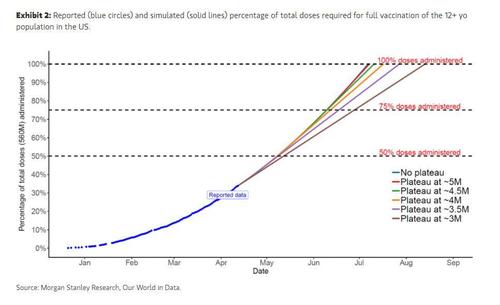 To try and make it easier for adults hoping to get vaccinated, President Biden this week urged employers to allow their workers paid time off, if necessary, to allow them to get vaccinated.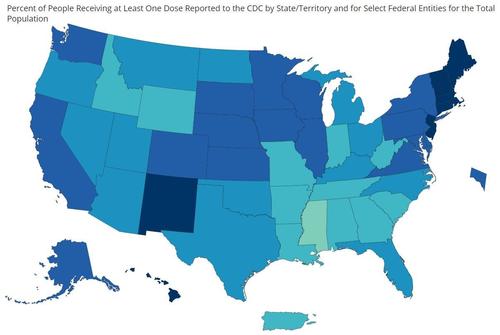 Whether these new targeted methods will make a difference in vaccination rates is unclear. As the NYT pointed out, vaccination rates vary widely at the state level.
But the distribution is uneven: While New Hampshire has given at least one shot to 59 percent of its citizens (that figure includes children, most of whom are not yet eligible), Mississippi and Alabama are languishing at 30 percent.

The laggards are trying to adjust. In Louisiana, where 40 percent of the adult population has had one shot even though all adults have been eligible since March, officials are delivering doses to commercial fishermen near the docks and running pop-up clinics at a Buddhist temple, homeless shelters and truck stops. Civic groups are conducting door-to-door visits, akin to a get-out-the-vote effort, in neighborhoods with low vaccination rates.
Some southern doctors are directly emailing patients to encourage them to get vaccinated.
In Alabama, Dr. Scott Harris, the state health officer, is trying to reach rural white residents, who are mistrustful of politicians and the news media. Dr. Harris is asking doctors to record cellphone videos, with a plea: "Please email them to your patients, saying, 'This is why I think you ought to take the vaccine.'"
According to the NYT, those in charge of the vaccine rollout have started to compare this late-stage of the adult vaccination rollout to the "ground game" seen in the final phase of a hard-fought political campaign.
White House and state health officials are calling this next phase of the vaccination campaign "the ground game," and are likening it to a get-out-the-vote effort. The work will be labor intensive - much of it may fall on private employers - but the risk is clear: If it takes too long to reach "herd immunity," the point at which the spread of the virus slows, worrisome new variants could emerge that evade the vaccine.

"If you think of this as a war," said Michael Carney, the senior vice president for emerging issues at the US Chamber of Commerce Foundation, "we're about to enter the hand-to-hand combat phase of the war."
But the executive director of another national health organization said these efforts might not amount to much. At the end of the day, the people who want the vaccine have had every opportunity to seek it out. What's left are people who are more skeptical of the vaccine. And the recent issues surrounding rare side effects tied to the J&J jab probably haven't helped to dissuade them.
"There are states where they feel they have hit the wall," said Michael Fraser, the executive director of the Association of State and Territorial Health Officials. "The folks that wanted it have found it. The folks that don't want it are not bothering to find it."
Circling back to the situation in Connecticut, Dr. Balcezak pointed out that rumors about patients who suffered severe COVID-19 symptoms - or even succumbed to the virus - despite being fully vaccinated have also hurt the prospects for the rollout: there have been about a dozen cases across Connecticut where people who were fully vaccinated who nevertheless were hospitalized for COVID-19. Balcezak said one of those people later died, although the patient had "underlying respiratory illnesses."