---
Japan Extends State Of Emergency As Petition To Cancel Olympics Sees Growing Support
Japanese newswire Kyodo just confirmed that Japan plans to extend its state of emergency which covers Tokyo, Osaka, Hyogo and Kyoto prefectures. The third state of emergency has been in place since April 25 and had been set to expire on May 11, but officials are concerned that the brief shutdown hasn't been sufficient to suppress infections, especially as cases start to accelerate across Asia.
Prime Minister Suga had a meeting on May 5 with senior ministers to discuss the necessary measures moving forward, and rumors about an extension started swirling shortly after the meeting concluded.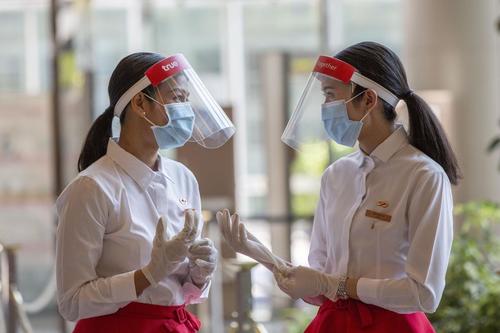 In addition to extending the state of emergency for the four prefectures, the government is also considering implementing stronger measures in several other prefectures including Hokkaido and Fukuoka.
Of course, Japan's decision to extend this state of emergency wouldn't be a big deal if it wasn't for the fact that Tokyo is due to host the rescheduled Olympics Games this summer. Although there won't be much of a crowd, the Games, which had been delayed from last year, are still scheduled to continue, though the IOC reserves the right to cancel them.
In other news, as Moderna touts new study data showing its vaccine is effective in minors as young as 12, Bloomberg reports that Japan is set to approve the Moderna jab as soon as May 21 as it scrambles to ramp up vaccinations. Japan has a contract with Moderna for enough shots to inoculate 25 million people, and is set to receive sufficient deliveries for 20 million by June and another 5 million in the following three months, the paper said.
But for now, Japan's vaccination efforts are falling dreadfully below the rest of the developed world...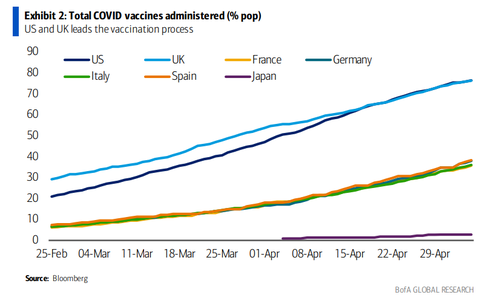 Meanwhile, as safety concerns grow in Tokyo, ESPN reports that a petition to cancel the games has attracted tens of thousands of signatures already just days after being launched. The petition was organized by Kenji Utsunomiya, a lawyer who has run several times for Tokyo governor.
It registered about 50K signatures in the first 24 hours after being launched.
The reason is that many fear Japanese citizens are being neglected as the government sees hosting the Games as a face-saving effort. Organizers of the Games say they will need 10K health workers to support the Olympics, including 500 additional nurses and 200 sports medicine specialists.
"Government policies are being set with the Olympics in mind, and measures to curb the coronavirus pandemic are being neglected," Utsunomiya told The Associated Press. "Hospital are stretched thin, and some people are dying at home."
The headline in English over the petition reads: "Cancel the Tokyo Olympics to protect our lives."
The postponed Games are due to begin on July 23.