---
Masks Still Required For Air Travel Despite CDC's New Guidance
Despite Friday's announcement from the CDC that federal masking guidance was finally being eliminated for the majority of the US (there are still some areas that qualify as "high risk" for COVID, but 35 states have already abandoned their own masking guidance), air travelers will still need to don masks for the duration of their flights - at least for the next three weeks.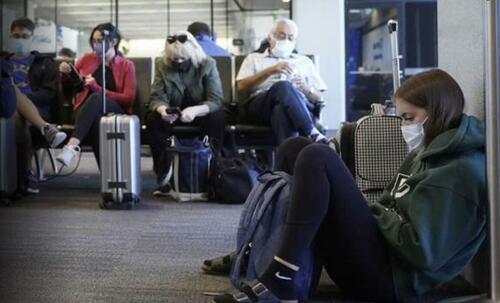 A TSA order enforcing mask mandates on commercial airplanes doesn't expire until March 18, and there's even a possibility that it could be extended.
Rules imposed in the early days of the Biden Administration require mask-wearing across all forms of public transportation, including trains, buses and airplanes. But the TSA order applies only to air travel.
"The mask requirement remains in place and we will continue to assess the duration of the requirement in consultation with CDC," said TSA spokeswoman Alexa Lopez on Friday.
In fact, pretty soon, public transportation could be one of the few remaining settings where people are required to mask up. Thanks to the CDC's decision yesterday, masking mandates will even be dropped in schools.
Flight attendants and pilots alike will likely be relieved to see the masking mandates dropped, as enforcing them has led to an unprecedented rash of conflict on commercial airplanes as (often intoxicated) passengers pick fights with other passengers, and staff. Incidents where passengers have been restrained in-flight, and even incidents where planes have been rerouted, have skyrocketed.
The FAA has said the vast majority of these complaints have been mask-related. More than $1 million in fines have been issued by the FAA, and another $400K have been issued by the TSA.
The guidance the CDC issued Friday is based around a new approach to measuring viral risk, this one based more on hospitalization numbers than overall case numbers, which are becoming increasingly harder to measure as more Americans rely on at-home testing to confirm COVID infection.
Under these new guidelines, only about 28% of the population lives in areas where the agency currently recommends universal masking.