---
Mass 'Super-Spreader' Event In Tuscaloosa After Alabama Win
In the second COVID-19 superspreader event in less than one week, the first was Trump supporters attacking the Capitol complex last Wednesday, thousands of fans, many without face masks, poured out on the streets of Tuscaloosa, Alabama, to celebrate the Alabama Crimson Tide football win.
The Crimson Tide football team crushed the Ohio State Buckeyes on Monday evening to win the national college championship. As with any major win, at a large party school, college kids tend to party, and party they did on Monday night. 
So it comes as no surprise that after the win, with the virus pandemic on no one's mind, thousands of college kids densely packed streets in Tuscaloosa to celebrate the big win. Many of them were seen without facing coverings nor practicing safe social distancing. 
Massive crowds pack streets in Tuscaloosa to celebrate Alabama Crimson Tide football team's college title win, despite local COVID-19 rules https://t.co/dZKAfACt8J pic.twitter.com/sgqNd4M7oN

— CBS News (@CBSNews) January 12, 2021
"Roll mother-f**king tide - you know what I'm saying," said one Alabama fan. 
Mayor Walt Maddox and UA urged fans to celebrate at home, but after a national championship in Tuscaloosa, they clearly had other plans pic.twitter.com/NpCHTFgM2Y

— Ben Flanagan (@ThisBenFlanagan) January 12, 2021
WSFA 12's Hailey Sutton captured stunning pictures last night of the mass spreading event.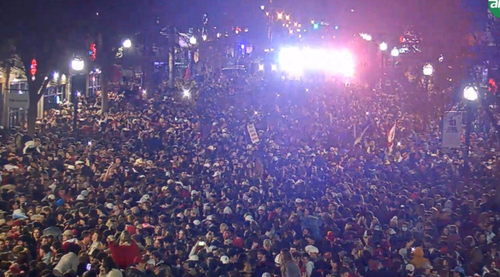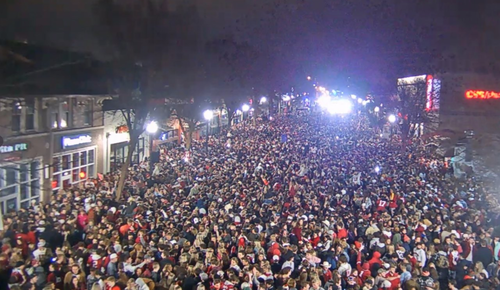 Ahead of the game, Tuscaloosa Mayor Walt Maddox told Alabama fans to respect social distancing rules and celebrate in a "responsible way."
"There will be a time and place to celebrate, but this is not the time," Maddox said. "All of us have friends, family members, people that we know and love who have been impacted by COVID-19. Presently, our hospital is stretched."
In the upcoming days around the National Championship Game, we all have a role to play in keeping our community safe.

Please continue to follow @ALPublicHealth guidelines including wearing a mask and limiting gathering size as you cheer on the Tide. Thank you and Roll Tide! pic.twitter.com/OzXZDJMQEu

— Walt Maddox (@WaltMaddox) January 8, 2021
Since the pandemic began, 5,300 people have died in Alabama from coronavirus and more than 400,000 have tested positive. Tuscaloosa County has been a hard hit region with local hospital DCH Regional Medical Center seeing a surge in cases. 
Instead of  "Roll Tide!" maybe it should be changed to "Roll COVID."