---
Moderna Backpedals, Guarantees 'Free' Covid-19 Vaccines After Demand Collapses
mRNA vaccine maker Moderna has backpedaled on a January plan to charge $110 to $130 per dose of Covid-19 vaccine (up from $26 per dose for booster shots), and is now promising that people won't have to pay for the jab once the US Government stops buying shots.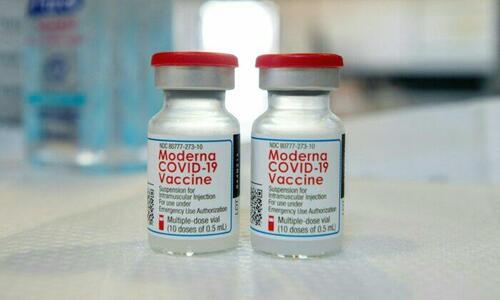 "Moderna remains committed to ensuring that people in the United States will have access to our COVID-19 vaccines regardless of ability to pay," the company said in a statement, adding that the vaccine "will continue to be available at no cost for insured people whether they receive them at their doctors' offices or local pharmacies."
Those without insurance - or whose insurance is inadequate, will be able to get jabbed "at no cost" via a Moderna assistance program.
As The Epoch Times notes,
Because the COVID-19 vaccines were added to the child immunization schedule, children whose families cannot pay for the vaccine will be eligible to receive them for free, with taxpayers covering the cost.
That would happen through a program called Vaccines for Children.
Advisers to the government, who recommended the addition to the schedule, said it was because the vaccines can prevent severe illness. The new vaccines, poised to replace the original shots, are not backed by any clinical trial data yet.
Dr. Rochelle Walensky, director of the U.S. Centers for Disease Control and Prevention (CDC), said that the only reason the vaccines were placed on the schedule was so they could be covered by the Vaccines for Children program.
"It was the only way that our uninsured children would be able to have access to the vaccines," Walensky said during a congressional hearing on Feb. 8. "That was the reason to put it on the schedule."
*  *  *
The announcement comes amid a collapse in demand for Covid-19 vaccines.
According to analyst estimates, Pfizer, Moderna, Gilead Sciences, AstraZeneca and Merck could suffer a drop in sales of nearly two-thirds, Reuters reports.
"We remain skeptical that COVID revenues will grow in 2024 and beyond," said JPMorgan analyst Chris Schott in a recent research note, adding that vaccination rates could drop even further than the significant decline already seen in booster shots last year.
Moderna also expects 2023 revenue to drop sharply.
The company's only product - its messenger RNA COVID vaccine - pulled in around $18.4 billion in 2022. Analysts expect that to drop to around $7 billion in 2023. The company is due to report earnings later this month.

Oppenheimer & Co analyst Hartaj Singh said investors are "frustrated Moderna hasn't used their firepower more effectively to prepare for revenues and earnings going down in 2023 or 2024." -Reuters
What changed?
Loading...