---
NJ Governor To End School Masking Mandate In Hopes Of Returning To "Normalcy"
New Jersey Gov. Phil Murphy is planning to announce on Monday afternoon plans to end statewide masking requirements for teachers and students in the state's schools, according to a NY Times report.
Over the past two years, Murphy has instituted some of the most cumbersome restrictions on businesses and individual freedoms, inspiring backlash from some in the state who felt some of the requirements made no or little sense. Among them were a pair of gym co-owners who were eventually arrested and charged for opening their business in defiance of government lockdown measures.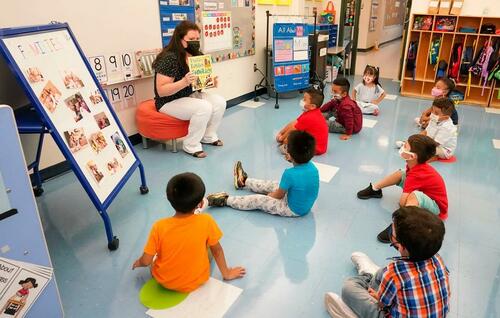 But as the COVID wave subsides and the number of hospitalizations and fatalities falls, pressure is growing on governments to start rolling back COVID restrictions. Murphy told the NYT yesterday that he plans to formally announce the rollback of the school masking requirements on Monday afternoon. The requirements won't be rolled back until March, which will coincide with the two-year anniversary of "two weeks to stop the spread" lockdowns.
All teachers in the state's schools are required to be fully vaxxed.
Given Murphy's position as vice chairman of the National Governors Association, it's likely that many other Democrat-controlled states will follow suit.
Murphy isn't the first governor to roll back masking rules: last month, Pennsylvania's Democratic Gov. Tom Wolf announced plans to rescind his state's school mask mandate. The Democratic governors of New York and Connecticut said last week that they were "reevaluating" school masking mandates which were soon set to expire.
Even after the statewide requirement ends, NJ school districts will have the power to reinstate the masking requirements if COVID cases spike. But as Murphy acknowledged during a recent meeting with President Biden at the White House, "the overwhelming sentiment on both sides of the aisle" is that "we want to get to a place where we can live with this thing in as normal a fashion as possible."
School masking requirements have elicited some of the most acrimonious backlash from members of the public during the pandemic. Battles during school board meetings have led to arrests and pandemonium, while angry parents have organized protests. In response to the outbursts, the National School Boards Association last year requested that members of school boards receive FBI protection.
Meanwhile, many GOP-controlled states like Florida and Texas have outlawed mask mandates in schools, triggering court fights in some cases. The mask requirements in NJ schools have been in place since September 2020, when schools reopened after a four-month COVID hiatus.
Mask rules in schools around the world have varied widely, with some countries requiring pupils to wear them despite very low infection rates and others mandating masks only for older students, or only when cases are surging.