---
Novavax To Sell US Government 1.5 Million More Doses Of COVID-19 Vaccine
Authored by Bill Pan via The Epoch Times (emphasis ours),
Novavax has secured a vaccine deal to provide the U.S. government with 1.5 million doses of its COVID-19 vaccine, a latecomer to a market where the biggest buyers have stopped buying.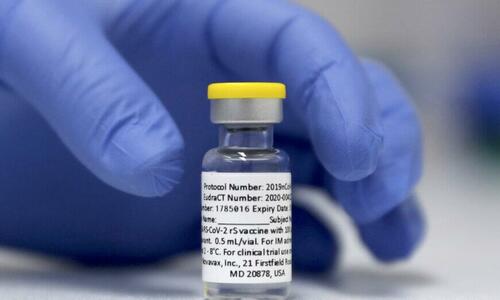 The Maryland-based biotech company reported on Monday that it has agreed with the U.S. government to modify an existing contract, but did not disclose how much it will be paid for the vaccine doses.
In addition, the amended deal will support development of smaller dose vials, strain selection in line with U.S. Food and Drug Administration (FDA) recommendations, and a "smooth transition to the commercial market," according to the company.
The move also indicates that the Biden administration still seeks to diversify its COVID vaccine arsenal with non-mRNA shots. Novavax is a protein subunit vaccine, meaning that it directly injects a version of the spike protein of the virus that causes COVID infection into the body to stimulate production of antibodies.
By contrast, Pfizer-BioNTech and Moderna vaccines work by introducing mRNA into the recipient's muscle cells, which then produce copies of the spike protein to trigger an immune response.
"This agreement acknowledges the need to offer the American people a diverse COVID-19 vaccine portfolio and underscores the importance of Novavax's partnership with the U.S. government to ensure continuous access to a protein-based option as part of public health measures," said John Jacobs, Novavax president and chief executive.
In July 2022, the FDA authorized emergency use of Novavax in individuals 18 years of age and older. In October of that year, the FDA approved its use as a booster for those who took mRNA shots from Pfizer or Moderna as their primary vaccination. The U.S. government has since bought 3.2 million doses.
The Biden administration has signaled that it would soon stop buying COVID vaccines, treatments, and diagnostic tests. According to Dr. Ashish Jha, the White House COVID response coordinator, the shift might take place as early as this summer or fall.
"All I can say, because I literally don't know, we don't have the specific dates, is that it's going to happen sometime over the summer into early fall. And you'll see that transition, and we'll kind of give people as much notice as we can possibly give," Jha said earlier this month during a webinar hosted by the University of California, San Francisco.
Japan Discontinues Novavax Deal
Japanese public health officials, on the other hand, have canceled an order of nearly 142 million doses of Novavax vaccines, sold in the Asian country under the brand name Nuvaxovid.
In 2021, the Japan government agreed to purchase 150 million doses of Nuvaxovid manufactured locally by pharmaceutical giant Takeda. In a report filed on Feb. 10 with the U.S. Securities and Exchange Commission, however, Takeda said Japan no longer wants to buy the remaining 141.76 million doses.
"Available doses of Nuvaxovid already supplied to the market can still be used as an option for individuals who cannot receive a bivalent omicron mRNA vaccine, or who wish to receive a recombinant protein vaccine," said Takeda, which is also contracted to make and distribute Moderna vaccines in Japan.
Loading...