---
NY Requires Nursing-Home Workers To Sign Paperwork If They "Opt Out" Of COVID Jab
Now that nearly 130MM Americans have received at least one dose of the coronavirus vaccine, the CDC announced Monday that all adults aged 16 and over across the US are now eligible to receive the vaccine.
Almost 130MM people 18 or older have received at least one dose of a vaccine, or 50.4% of the total adult population, the CDC pointed out. Almost 84MM adults, or about 32.5% of the population, have been fully vaccinated.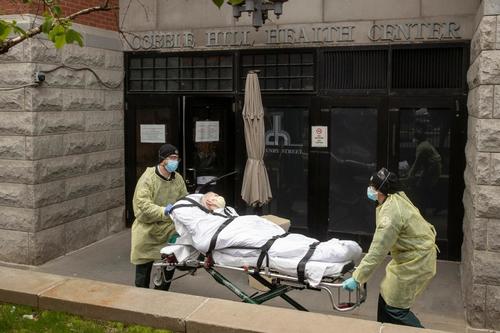 What's more, Dr. Anthony Fauci hinted on Sunday that the US government will likely move to resume use of Johnson & Johnson's COVID-19 vaccine this week, though possibly with restrictions or broader warnings about the rare, but potentially deadly, blood clots.
The news comes just as demand for vaccines in the US appears to be reaching an inflection point, as more states report growing stockpiles of unused jabs as demand for vaccinations tapers off.  Dr. Scott Gottlieb has warned that a demand crisis might be at hand in the US, putting the entirely theoretical 70% herd immunity threshold out of reach - at least temporarily.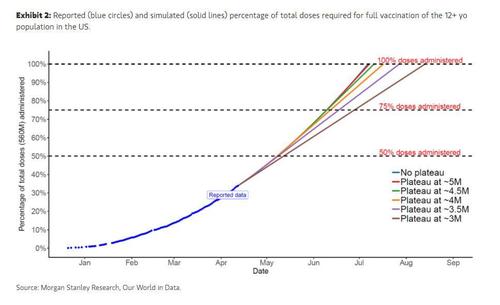 Clearly, public health officials across the country are starting to worry about waning vaccine demand, because after nearly half of New York nursing home workers refused the vaccine, the state's Department of Health us taking steps to pressure nursing homes to get these compliance numbers up. While some health care workers say they haven't yet had an opportunity to get the jab, Zero Hedge has been chronicling reports about health-care workers declining the jabs in surprising numbers, in states from California to New York and elsewhere.
Like the old saying goes, "sh*t rolls down hill," and as the state leans on nursing homes to raise staffer vaccination numbers, the homes are being required to force employees who refuse the vaccine to sign "paperwork" affirming their decision.
As the New York Post reported last night, New York's health department brass are now requiring nursing homes in the state to give every worker an opportunity to get vaccinated. And if they refuse, they must sign paperwork recording their decision to "opt out" of the vaccination process. Nursing homes that don't comply could face serious fines, according to the New York Post.
Nearly half of New York's nursing home workers haven't gotten the COVID-19 vaccine — so the state Department of Health is now putting more pressure on the facilities to bridge the gap, The Post has learned.

Health department brass issued new guidance late Thursday that requires nursing homes to offer "an opportunity to receive" the jab to all consenting residents and staff by April 29 and within two weeks of a new hire or a new admission, records obtained by The Post show. Both staff and residents who opt out will need to sign paperwork acknowledging that they are declining. Facilities that don't comply with the new rules may be penalized up to $2,000 per violation, the DOH

[...]

They're trying to get people vaccinated and they're trying to incentivize it," said Michael Balboni, the Executive Director of Greater New York Health Care Facilities Association, said of the new requirement.

Only 60 percent of workers in the facilities statewide have gotten the shot since December - and just 56 percent of staff in the five boroughs have received the vaccine, the latest DOH vaccination numbers show.

By comparison, 80 percent of nursing home residents statewide have been vaccinated and 73 percent in the city have gotten the jab.
One nursing home official claimed the guidelines were released without enough consultation and argued that facilities might have trouble meeting the 2-week vaccination rule simply because they don't have enough jabs. But as we noted above, there could be other reasons - even justifiable reasons - why nursing home workers refuse the vaccine.
While it's not clear what immediate purpose this paperwork would serve, the ominous notion that the state will be taking names of those who refuse could be interpreted as an implicit threat for a large subset of the state's health-care workers (and a group that was severely impacted, with vast numbers catching the virus last spring as it tore through state nursing homes while Gov. Andrew Cuomo shopped around his book deal).