---
Is The Omicron Wave Finally Over? US Cases Fall To One-Fifth Of Holiday Peak
As more states abandon their masking mandates (while LA County bizarrely refuses to budge), it's becoming increasingly clear that - just like last year - the omicron driven COVID wave that started just after Thanksgiving is finally coming to an end.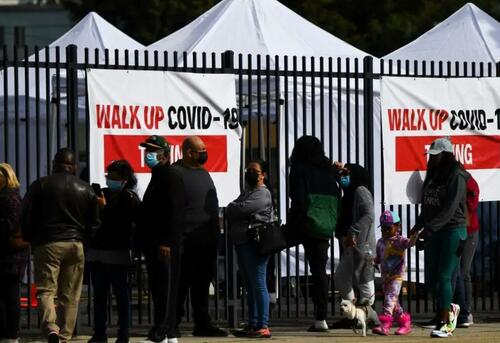 Let's take a look at the latest numbers. As more states abandon their mask mandates, California dropped its mandate yesterday, unleashing Bay Area residents from a mask mandate that they have been living with since March of 2020.
"I'm for no mask," one San Francisco resident, Nichole, told Fox News. "I think no matter what, everybody is going to encounter the virus."

"We have to start somewhere," she continued. "We can't be masked up forever."
The US is averaging 151,056 new COVID cases per day over the last week, according to data from Johns Hopkins University. But while the number of newly reported COVID cases and hospitalizations keep tumbling, more than 2K Americans are still dying every day from COVID. Still, the drop in cases is notable for its speed: cases have dropped 44% from last week. After the latest drop, new COVID cases have plummeted to less than one-fifth of the peak of more than 800K cases per day a month ago. For the first time since Christmas, the US reported fewer than 200K new COVID cases a day on Friday.
COVID hospitalizations are also declining, with 82,842 patients currently hospitalized with COVID, according to data from the US Department of Health and Human Services. That's a 23% drop from last week.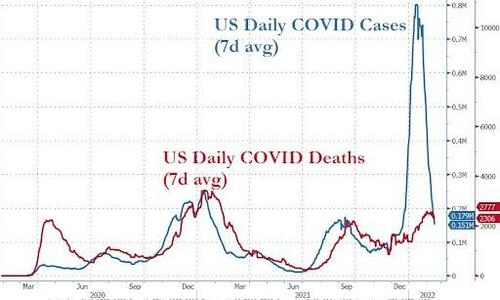 But as far as the government sees it, the job is unfortunately not yet done: While most Americans, some 64%, have been fully vaccinated, only 28% have received a booster dose, according to CDC data. That's lower than the rate in Canada.
Over the past week, case rates were highest in Alaska, Kentucky, Mississippi and West Virginia -- with each state reporting more than 100 new cases for every 100,000 residents each day. The rates of new cases were lowest in Maryland, New Jersey, Kansas and New York -- each reporting less than 25 new cases for every 100,000 residents each day.