---
Only 2% Of Americans Have Received New COVID Vaccine: CDC
Authored by Jack Phillips via The Epoch Times,
About 2 percent of all Americans have received the updated COVID-19 booster shot after it was authorized and recommended by federal health officials several weeks ago, according to updated data provided by the Department of Health and Human Services (HHS).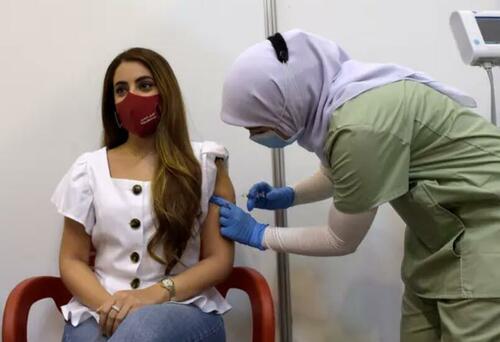 More than 7 million Americans have taken the updated shot, which is authorized for people aged 6 months and older, said an HHS spokesman. That's approximately 2 percent of all Americans.
"COVID-19 vaccine distribution, which has shifted to the private market, is a lot different than it was last year when the government was distributing them," said a spokesperson for HHS about the vaccination data. It added that the agency is "directly with manufacturers and distributors to ensure that the vaccines are getting to" various locations.
The statement added that 91 percent of Americans aged 12 years and older "can access the vaccine within 5 miles of where they live," adding that 14 million updated boosters for COVID-19 have been shipped to pharmacies and other locations. The vaccine was approved about a month ago by the Food and Drug Administration (FDA) before it was recommended by the U.S. Centers for Disease Control and Prevention (CDC) shortly thereafter.
It came as some people reported that it's difficult to find doses of the new vaccines at local pharmacies and doctors. Jen Kates, a senior vice president at the Kaiser Family Foundation, said on X in September that her vaccine appointment was canceled due to a lack of supply.
The 7 million figure is up since Oct. 6 when Dr. Mandy Cohen, director of the CDC, told reporters that 4 million had received the new vaccines.
The HHS said Thursday that the latest updated vaccinate rate is about the same as the initial bivalent booster shot when it was rolled out in 2022. However, demand for the 2022 booster vaccine was similarly low, according to CDC data.
Data has shown that about 17 percent of the U.S. population got that previous updated shot, or around 56.5 million people.
The updated vaccines were meant to target the COVID-19 XBB.1.5 variant, which was spreading across the United States when companies like Moderna and Pfizer came up with the new version.
Observational data for the bivalent vaccines, or the previous versions, found weak initial effectiveness that quickly waned.
CDC officials made unsupported claims during the briefing, part of a trend for the agency. "These vaccines will prevent severe disease for COVID-19," Dr. Demetre Daskalakis, director of the CDC's National Center for Immunization and Respiratory Disease, told reporters. There's no evidence that's true.
The only clinical study data for the new shots is from a study Moderna ran that included injecting 50 humans with the company's updated formation. The result was a higher level of neutralizing antibodies. Officials believe antibodies protect against COVID-19.
Moderna did not provide any clinical efficacy estimates for infection, severe disease, or death. Pfizer said it was running a trial but has not reported any results.
Novavax's vaccine was authorized later without any new trial data, as CDC officials have said they recommend that shot. Unlike the Moderna and Pfizer vaccines, Novavax doesn't use mRNA technology and is protein-based.
Hospitalizations Down
Despite the recent push for the latest vaccines, data provided by the CDC shows that hospitalizations for COVID-19 have been down for about three consecutive weeks.
For the ending Sept. 30, the hospitalization rate is down by 6 percent, while emergency department visits are down by 14.5 percent and COVID-19 cases are down 1.2 percent, the figures show. Deaths are up 3.8 percent, although health officials have previously said that deaths generally lag behind hospitalizations and case numbers.
In July, COVID-19 hospitalizations had been increasing for several consecutive weeks. CDC historical data suggest that deaths have been relatively low compared with previous years.
But with the release of the Sept. 30 data, hospitalizations have dropped for multiple consecutive weeks.
Dr. Shira Doron, chief infection control officer for Tufts Medicine, told ABC News that that the recent "upswing is not a surge; it's not even a wave."
The doctor added: "What we're seeing is a very gradual and small upward trajectory of cases and hospitalizations, without deaths really going along, which is great news."
The CDC on Oct. 6 released a report that attempted to push older Americans to get the newest vaccines by saying that COVID-19 is still a "public health threat," namely for people aged 65 and older. The majority of hospitalizations, it said, is occurring among that older demographic, according to the paper.
In the meantime, a handful of hospitals in California, New York state, Massachusetts, and New Jersey have re-implemented mandatory masking—at least for staff.
Several Northern California counties issued a mask mandate for all health care staff starting next month and ending in late April 2024. They include Contra Costa, Sonoma, Alameda, and San Mateo counties. Officials in the Southern California county of San Luis Obispo also issued a vaccine-or-mask mandate earlier this month.
Loading...