---
Patients Stricken By Vaccine Blood Clots Seek Payout From Government Fund
Though they represent a tiny fraction of all patients who receive the various COVID-19 vaccines, those who have severe, even life-threatening, reactions to the J&J COVID-19 jab face a difficult path to compensation since US law shields producers of the various COVID-19 vaccines from lawsuits. Instead, as Bloomberg explains in a story published Monday, patients are left to file claim with an obscure federal fund that - as BBG explains - "a program with a history of rejecting claims and a relatively high bar for recovering costs."
The Countermeasures Injury Compensation Program, run by an obscure office within the Department of Health and Human Services, covers medical costs and lost wages not paid by insurance. Some 445 claims had been filed for Covid-related adverse reactions as of April 26, according to the Health Resources and Services Administration, which runs the program. However, only a small number of those claims are related to vaccines.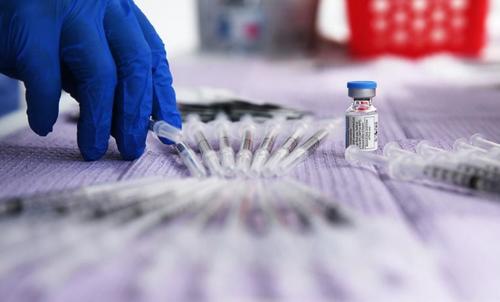 Bloomberg also offered some insight into what happens to patients who experience severe reactions to vaccines. It starts with the story of Emma Burkey, who was hosptialized after having a seizure caused by blood clots in her brain. An ambulance took Burkey to the local southern Nevada hospital, where doctors realized her reaction was similar to others reported from the J&J shot. Having grasped the severity of the situation, she was airlifted to a neural treatment unit at Loma Linda Hospital in San Bernardino, California. The family is counting on most costs to be covered by insurance, but they learned of the compensation program during a call from Sen. Catherine Cortez Masto's office, one of the two senators from their home state of Nevada. Members of the senators staff are ensuring the family "gets the support they deserve."
High school senior Emma Burkey received her "one and done" Johnson & Johnson coronavirus vaccine on March 20, and within two weeks was in an induced coma following seizures and clotting in her brain.

She's making a slow recovery, having recently been transfered from the hospital to a rehabilitation center, and the first round of bills totaled $513,000. The 18-year-old's family friends in the Las Vegas area started a GoFundMe account to help with medical expenses from the very rare vaccine reaction.

"We don't know what's going to happen with Emma, how long it will it take for her to return to a normal life," said Bret Johnson, the family's minister, who's acting as spokesman for the Burkeys. He said the family believes her condition is linked to the vaccine but hasn't yet been contacted by the company or U.S. health regulators, and that a connection hasn't been independently confirmed.
So far, of the roughly 450 claims filed with the compensation program, only about 25% of the COVID-linked reactions have been linked to vaccines, while more than half were from various other treatments, according to HRSA. These include ventilators, convalescent plasma, and hydroxychloroquine. In total, the claims include more than 50 deaths from insufficient care.
Unfortunately for those who have filed, there have been no payouts so far in COVID cases, which the HRSA says is because it hasn't received all the information it needs to make disbursements. Required medical records still haven't been received from the applicant in the first claim, which was filed in September over an adverse reaction to convalescent plasma, the agency said.
Some critics say the countermeasures program isn't the best way to handle the vaccine claims. Even once processing of the claims begins, historically, the fund has been pretty stingy. Only 39 of almost 500 claims have been found to be eligible for compensation (mostly for reactions to the H1N1 vaccine) and the fund has paid out only about $6 million in 29 cases.
Instead, these critics believe compensation requests should go through a decades-old program within the same agency called the Vaccine Injury Compensation Program, known informally as the "vaccine court." However, the CDC insists that COVID-19 vaccinations aren't eligible to be heard by the court - though Congress might move to change this. The vaccine court was created in the late 1980s, when vaccine-makers threatened to pull out of the market over the high costs of litigation.
Fortunately for Burkey, her health-care costs - which will likely mount into the millions of dollars - will be borne by her health insurer. But one shouldn't assume that every one of the women who suffered blood clots due to the J&J jab will be so lucky.